vBookie Event

: Eduardo Dantas vs Marcos Galvao (Bellator FC 89)
This event is over.
Bellator FC 89: Eduardo Dantas vs Marcos Galvao
---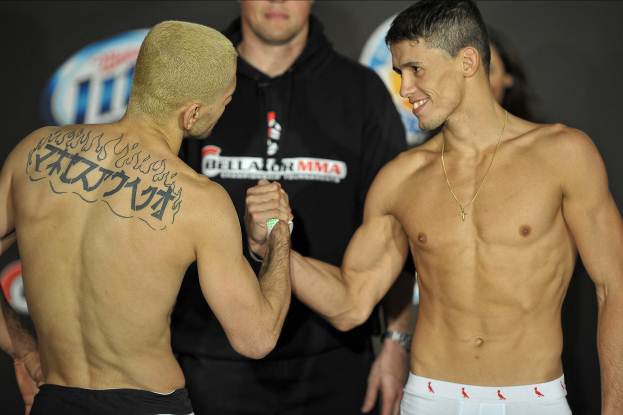 ---
Featherweight
Join Date: May 2009
Location: Western Massachusetts, New England, United States of America, Western Hemisphere, Earth, Sol System
Posts: 1,028
very emotional match.... interesting how dantas just did not want to play the bjj game at all with "the master".
---
.
.
.

Carley Simon, thanks for writing that song about me!
Quote:
R1: Dantas cracks a low kick to the inner thigh as Galvao sights in the haymakers, but doesn't let 'em fly. Dantas snaps a jab and circles out, then scorches with a right low kick. Galvao answers with a right low kick of his own. Dantas goes to the body with the kick this time and Galvao can't catch it. Dantas doing a good job of staying out of Galvao's wheelhouse until Galvao lands a kick to the body and then pounces with a clinch that evolves into the rear waist cinch for Galvao.

He lifts Dantas up and hits the takedown but Dantas is instantly back afoot. Galvao pelts the hamstrings with short knees and tries to heave Dantas again, but the youngster stays upright with hand-fighting and good balance. Dantas finally peels the grip loose and they restart in the center. Dantas doubles up his jab and follows with a heavy 1-2-3 that lands hard, then connects with a left to the breadbox. Galvao answers with a left hook and two right hands. Galvao getting sloppy and Dantas playing the technician as the round time wanes. Galvao pops him with a stiff right hand just before the bell. Close one: Galvao landed with more power but less volume and didn't do anything with the cage control. 10-9 Dantas.

R2: Galvao chops with a right low kick. And another. Then a big right hand as Dantas dangerously stays in the pocket with him. Another low kick from Galvao. Superman punch from Dantas; Galvao answers with right-left meat-hooks. Dantas gets silly with 3-straight low kicks set up with a front kick. Dantas goes high with the kick and snaps Galvao's head back with it, pouncing with punches to his dropped teammate. Galvao recovers in a flash and they're back standing.

Dantas continuously finding the mark with his piston-like jab. Galvao is just flailing home-run hooks and might still be hurt from the head kick. Dantas smells blood now and wades in with a brisk uppercut that clips Galvao's chin, and "Louro" is out cold. An impressively mature and technical showing from the young champion.

Eduardo Dantas defeats Marcos Galvao by KO (uppercut), Round 2.
http://www.bloodyelbow.com/2013/2/14...deo-discussion
---
Currently Active Users Viewing This Thread: 1

(0 members and 1 guests)
Posting Rules

You may post new threads

You may post replies

You may not post attachments

You may not edit your posts

---

HTML code is Off

---