vBookie Event

: Marlon Sandro vs Frodo Magomedrasul (Bellator FC 92)
This event is over.
Bellator FC 92: Marlon Sandro vs Frodo Magomedrasul
---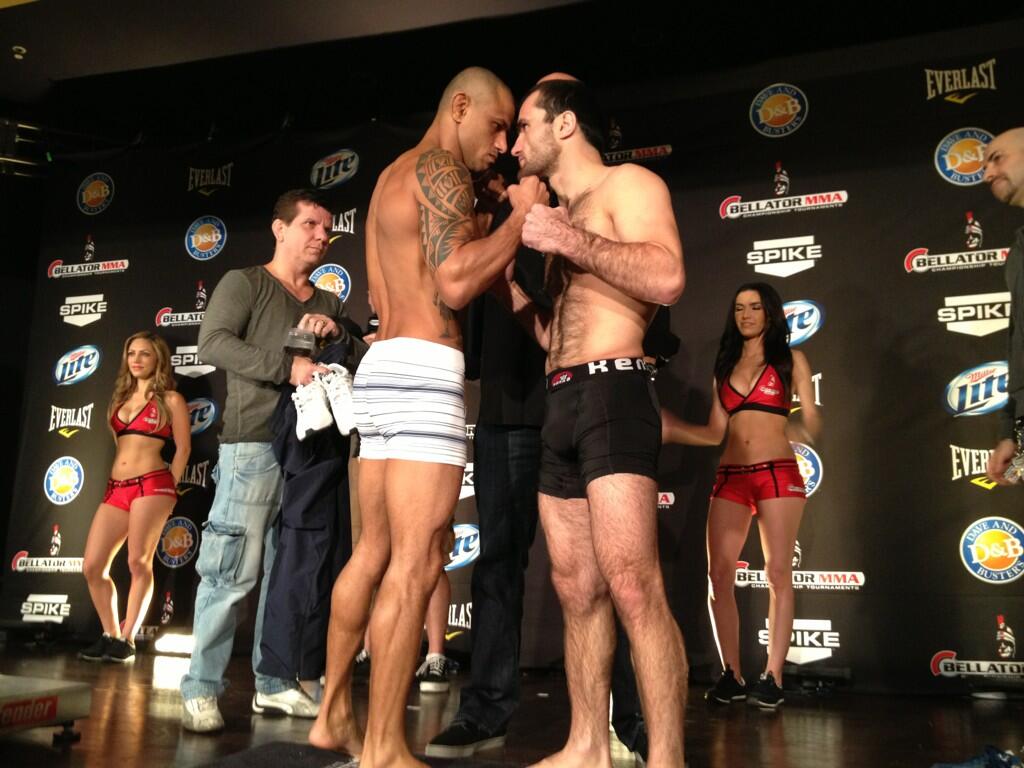 ---
Quote:
R1: Sharp low kick by Sandro. Another. Then a big 1-2 to back Khasbulaev off. Sandro times his uppercut as Khasbulaev moves in and connects to the body. They clinch and trade knees but Sandro's hits low, and
Khasbulaev groans in obvious pain on the canvas. Despite floundering on the ground in agony, Big John orders Khasbulaev to stand up and "shake it out." Which seems like more of a post-urination thing, but what do I know. The plan works and we're back in action with 3:30 left.

Khasbulaev hits a nice inside trip but Sandro's immediately on an armbar. Khasbulaev counters it and Sandro rolls out and almost gets caught in a crucifix. He wiggles out. Khasbulaev finds the mark with a front kick to the chin and a punch that staggers Sandro, though he motions as if he was eye poked. Khasbulaev swarms him and ends up with a deep armbar attempt in a blurry scramble, which Sandro patiently escapes. Khasbulaev snatches a kimura and sweeps with it, then wrenches it hard from the top. Sandro's in deep danger again but manages to avoid the lock. Khasbulaev postures up and drops down hammer-fists until the horn sounds. 10-9 Khasbulaev.

R2: Khasbulaev's spinning back kick whiffs. Sandro looks to have popped him with a punch but it might have been a slip. Khasbulaev attacks in a frenzy but ends up on the bottom after a clinch entanglement. Sandro cradles the far leg in half guard to smash Khasbulaev onto the fence, then wraps up an arm triangle that gets pretty tight. Khasbulaev spins out of it and gets back to his feet, dirty boxing in the clinch to set up another trip.

Khasbulaev stays on his feet and lances down hard right hands to the prostrate Sandro's face. Sandro pulls him down to stem the flow and Khasbulaev works on a straight armbar from the top. Sandro hip bumps him to make space and take a knee but Khasbulaev spins to his back and lands punches to the head. Another 10-9 for Khasbulaev.

R3: Time is called briefly as Sandro appears to have trouble getting off the stool. Khasbulaev pulls a dick move and sets up a left hook and takedown with a sportsmanlike glove-touch. He gets in high half guard and accidentally knees Sandro's face when trapping his left arm, then showers down a cascade of hammer-fists while Sandro works a deep half guard. Sandro gets to his feet but Khasbulaev has the rear waistlock and bullies Sandro down with it.

Frenzied and powerful hammer-fists from Khasbulaev are adding up now. And John McCarthy steps in after an unanswered series.

Magomedrasul Khasbulaev defeats Marlon Sandro by TKO (hammer-fists), Round 3.
http://www.bloodyelbow.com/2013/3/7/...n-play-by-play
---
Currently Active Users Viewing This Thread: 1

(0 members and 1 guests)
Posting Rules

You may post new threads

You may post replies

You may not post attachments

You may not edit your posts

---

HTML code is Off

---