| | |
| --- | --- |
| dudeabides | 06-15-2010 06:49 PM |
---
Bellator FC 22: Jarrod Card vs Jose Vega

vs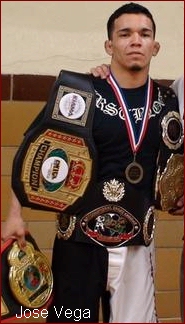 | | |
| --- | --- |
| attention | 06-17-2010 08:33 PM |
---
OUCH! 39 seconds!
| | |
| --- | --- |
| dudeabides | 06-17-2010 08:34 PM |
---
I know man, big left hook and we were WRONG haha.
Quote:
---
Round 1 - Leg kick from Vega and now he goes to the double jab. Card with a nice jab. Vega with some more solid leg kicks. HUGE LEFT HOOK FROM VEGA AND CARD IS OUT COLD! A few more punches from Vega and it's over. Looks like Card is trying to tell the ref he was okay but...no. He was out cold. Jose Vega wins by KO (punch), round 1.
---
All times are GMT -4. The time now is

04:01 AM

.
Powered by vBulletin Version 3.6.8 , Copyright ©2000 - 2015, Jelsoft Enterprises Ltd.
SEO by vBSEO 3.3.2