vBookie Event

: Jacob Devree vs Nazareno Malegarie (Bellator FC)
This event is over.
Bellator FC 46: Jacob Devree vs Nazareno Malegarie
---
vs
---
200k on Malegarie.
---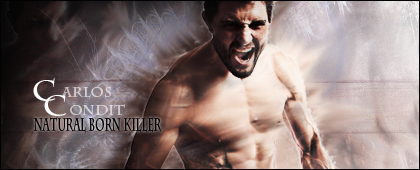 2012 FFL WINNER
CPL RECORDS
UFC 56-32-3 Strikeforce 10-4
Nice submission by Malegarie:
Quote:
Round one: Malegarie shoots almost immediately, and goes for a guillotine first thing. Malegarie has it tight but DeVree isn't tapping. Malegarie is using up a ton of energy for nothing, as DeVree gets loose. Now Malegarie has a heel hook but DeVree gets out. Now DeVree is back in Malegarie's guard. Malegarie is holding him and keeping DeVree from doing much, and the ref stands them up. DeVree tags Malegarie but eats a shot in the process. Malegarie shoots again but DeVree is away. And another shot, this time he gets it. DeVree spins and tries to get up but that's the round. I give it to Malegarie 10-9.

Round two: DeVree comes out swinging, Malegarie shoots and tries another guillotine. DeVree gets loose but Malegarie has full mount. DeVree rolls and gives up his back. He spins and Malegarie ends up in half guard. DeVree is trying to get to his feet but Malegarie is all over him. Malegarie is landing some punches and DeVree gets to his feet. Malegarie gets the takedown again, and is in half guard. Now he goes for a heel hook but DeVree is loose. End of the round. Another 10-9 for Malegarie.

Round three: Malegarie is the aggressor early, and he shoots and gets the takedown quickly. DeVree is trying to throw some punches off his back this time. Malegarie sinks another guillotine, and this time DeVree taps! Nazareno Malegarie def. Jacob DeVree via submission (guillotine choke),1:15 of round 3.
http://www.bloodyelbow.com/2011/6/25...ay-and-results
---
Currently Active Users Viewing This Thread: 1

(0 members and 1 guests)
Posting Rules

You may post new threads

You may post replies

You may not post attachments

You may not edit your posts

---

HTML code is Off

---