vBookie Event

: Chris Lozano vs Brent Weedman (Bellator FC 49)
This event is over.
Bellator FC 49: Chris Lozano vs Brent Weedman
---
---
1 million on Weedman, gonna win the tournament.
---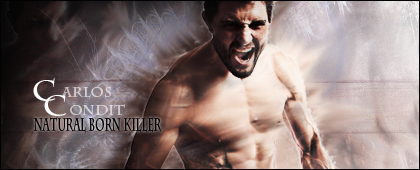 2012 FFL WINNER
CPL RECORDS
UFC 56-32-3 Strikeforce 10-4
Last fight goes to the judges:
Quote:
Round one: Lozano opens with a blitz of punches and knees. Weedman takes him down and gets him on the cage. Weedman has Lozano's back and they stand up. Lozano turns into Weedman and is pushing him into the cage now. Lozano throws Weedman but he's back up quickly. Weedman clinches and throws a knee, then throws Lozano and takes his back. Weedman has one hook in and tries to sink an RNC. Lozano is trying to stand but can't. He's defending the RNC well, though. Weedman is trying to flatten Lozano out. Lozano trying to stand again. Weedman has a body triangle tight, and is still working for the RNC. End of the round, Weedman dominated most of that round and I give it to him 10-9.

Round two: Lozano trying to come out aggressive again, but Weedman is answering him strike for strike. Lozano lands a couple of good shots and Weedman might be rocked a bit. Lozano's striking is more effective this round. Weedman shoots, but they're back up quick. Lozano catches Weedman again, no doubt he's hurt. He's still throwing and moving forward, though. Lozano is landing shot after shot. He lands an uppercut that looks like it staggered Weedman. Weedman just keeps moving forward. He's throwing but not landing as much as Lozano is. Weedman goes for a takedown but the round ends. That one went to Lozano, 10-9.

Round three: Lozano opens with a leg kick, then comes after Weedman with knees and punches, backing him up. Lozano lands a spinning back kick, He tries for another but Weedman shoots for a single. Lozano defends it well but Weedman will not let it go. Lozano gets up and throws Weedman, then tries to sink a D'arce choke. He gives it up and gets half guard. Lozano landing lots of good body shots. Weedman gives up his back but Lozano only has one hook in. Weedman spins but Lozano is back on top. Weedman has Lozano's leg but Lozano gets up. Weedman has Lozano around the waist and takes him down, but the fight is over. I call it for Lozano, 29-28.

Chris Lozano def. Brent Weedman via unanimous decision, 29-28.
http://www.bloodyelbow.com/2011/9/10...ay-and-results
---
Currently Active Users Viewing This Thread: 1

(0 members and 1 guests)
Posting Rules

You may post new threads

You may post replies

You may not post attachments

You may not edit your posts

---

HTML code is Off

---