Bellator welterweight champ Ben Askren has no fights left on his contract
---
Quote: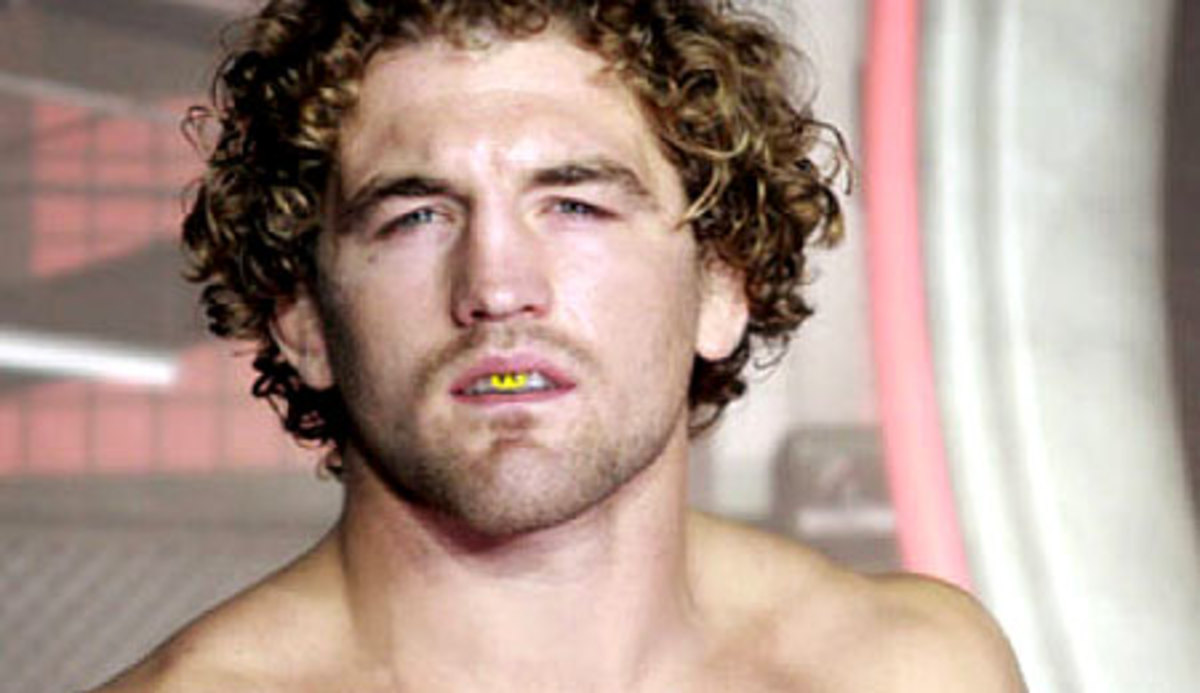 Wednesday night, Askren recorded his 4th title defense and 12th victory as an undefeated fighter.
Following the Bellator 97 event it came out that his TKO win over Koreshkov was the last fight on his Bellator contract.
Wednesday night at Bellator 97, Welterweight Ben Askren picked up his fourth title defense against challenger Andrey Koreshkov, After 18 minutes of domination, Askren stopped Koreshkov in the fourth round. The win marked his second stoppage as a Bellator fighter and the last fight on his contract.
Chad Cooper, who covered the event and interviewed Bellator CEO Bjorn Rebney after the show reported it first on Twitter:
Chad Cooper @thechadcooper

Ben Askren has zero fights left under current Bellator contract...
6:00 AM - 1 Aug 2013
The fact that Askren has come to the end of his contract is very telling. It's common in MMA for promotions to renegotiate contracts prior to the final fight on the contract. So, it would seem either Bellator didn't offer enough in previous negotiations or Askren didn't care what they had to offer.
While it's still very possible that Askren chooses to re-sign with Bellator of his own accord, it will be interesting to see if he learns from the mistakes of former Bellator Lightweight champ Eddie Alvarez. Alvarez is currently involved in a lawsuit over "matching rights" that's not likely to resolve until late-2014 unless he decides to settle. If Askren tries to get out of Bellator without waiting out the matching period, he could find himself in a similar situation.
Bloodyelbow
Interesting indeed that it actually expired. Wonder if the UFC is gonna make a move knowing White's contempt for Askren the fighter and child. And then the whole contract dark cloud that is BFC reactionary process to UFC poaching
---
I like MMA less because of this forum
Join Date: Jun 2009
Posts: 20,897
I couldn't care less about Askren. Very good wrestler, terrible fighter. His wrestling just happens to be so good it takes him places.

I hope he gets an instant shot if he comes to the UFC so GSP can smash him after he smashes Hendricks.
Quote:
I don't really care if he's boring. He's a top guy and i want those guy's to be in the UFC.
He is not boring at all. I love hating him. I get excited for every time he fights.
There is always a slim chance he can lose.
I'm at the edge of my seat every time just hoping.
Unfortunately he probably is the best in the world at his wait class. I will probably get to hate him for many more years.
I want him in the UFC.. The dude can flat out wrestle. He seems to have amazing grip as well. When he gets a hold of you, you can't shake him off.
---
SMOOTH
Ben Askren to the UFC?
---
I was reading that Askren's title defense at Bellator 97 was the last fight on his contract and bjorn Rebney has said he is dragging his heels massively over signing a new contract so that looks like he is making a play for a UFC contract, but we all know what happened with Eddie Alvarez.

Anyone think we will see Askren make the move? Personally he bores me but he is super talented so I'd be all for it.
---
Flyweight

Join Date: Jun 2013
Location: UK
Posts: 281
I don't think Dana is a big fan of his style or recent matches. I don't think it's someone they will rush to sign while they are cutting the roster. Although you never know.
---
BAMMA 25 - May 14th 2016 Birmingham, England
BAMMA 26 - COMING SOON
Live on SPIKE TV!!
http://www.bamma.com
Twitter: @BAMMA
Facebook, Instagram, Pinterest, Snapchat, Vine & Youtube: /BAMMAUK
Quote:
I don't think Dana is a big fan of his style or recent matches. I don't think it's someone they will rush to sign while they are cutting the roster. Although you never know.
Askren finished his last two fights, which is more than what the current UFC WW champ can claim. He is also undefeated and has easily beaten everyone thrown at him, but of course his talent level is being wasted at the level of competition Bellator can offer him.
I think talent wise he is easily the #2 WW in the world, if not ranking or record wise quite yet.
I would really like to see him in the UFC but doubt it will happen easily, given the Alvarez situation.
Currently Active Users Viewing This Thread: 1

(0 members and 1 guests)
Posting Rules

You may post new threads

You may post replies

You may not post attachments

You may not edit your posts

---

HTML code is Off

---