Damn I was looking for the shoo in lol .....so Koreans huh? damn
---
Credit to M.C !!
So how many man bracket are we looking at here?
---
The Emoticon Guy
I'm in... I won the last pick'em we did
---
FORMER UFC CPL CHAMPION
CPL RECORD
:
5-3
Events Attended: UFC 120, CWFC 45, CWFC 52
Yeah, but that was a wider pool with more option as compared to a one on one.
---
The Emoticon Guy
im in....bellator fanatic, still waiting for warren to get his.

edit: oh snap, hawn is out?
---
JUST SCRAP
So is Hawn out or not?

I'll need to resend my picks if he is.
---
Sig credit: MC
~ Lifetime Membership sponsored by RustyRenegade ~
Wait, how do we determine contenders after the tournament is done? And are we just doing tournaments every season? The discussions about this have been all over the place if I remember.
---
The Emoticon Guy
It's been a week since the signups went up, and only 3 days before the event so:

SIGNUPS for the tourney are over. 13 people signed up and... wait, that's an odd number. Ok I'll make it 14. Rep limba when you see his tourney graphic; they are always awesome. And thanks guys.

As you may know 14 person or team brackets don't have everyone playing in Week 1. The two first round byes went to the ones who seemed to deserve it most: multiple Bellator pick 'em winners St.Paul Guy and Bknmax. But everybody in it is 0-0 so we all have a chance. Those two can still send picks for this week's show and be in regular matchups outside of the tourney if they want, but next week should definitely send picks for Bellator 50.

The winners in Week 1 will move onto the 2nd round next week at Bellator 50. People can still sign up to compete at this event and the next one if they aren't in the tourney. We would just need at least two of them to make a regular matchup on the undercard. And the win/loss records start counting at this event.

Don't forget the picks are due in time for the Spike TV prelims at 7 pm.
---
Am i having a blond moment? Where are the match ups dudes? As in which member am i fighting against.
---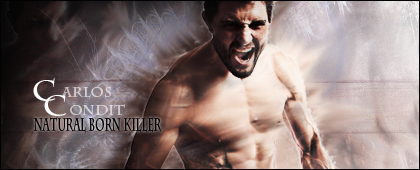 2012 FFL WINNER
CPL RECORDS
UFC 56-32-3 Strikeforce 10-4

Join Date: Apr 2010
Location: Following The Path To Jesus Set By His Disciple Vitor Belfort
Posts: 5,111
aww,aww, i missed it.
---
Currently Active Users Viewing This Thread: 1

(0 members and 1 guests)
Posting Rules

You may post new threads

You may post replies

You may not post attachments

You may not edit your posts

---

HTML code is Off

---