The "So and So Got Lucky" Argument
---
This is my vent for the day.
When did this argument even come into effect? Was is Serra beating GSP or GG beating Mirko...or was it even before that? It seems that The Year of the Upset has made everyone come up with excuses for the favorite after he goes down.
Here is a REAL example of luck in a fight: TK throws a punch and his elbow grazes his opponents face. It cuts him. The blow is considered illegal by the rules, but since it is a tournament and someone must advance, TK wins the fight...giving Fedor his first and only loss.
Now thats lucky. He should have been DQ'd or the fight should have been a No Contest, but he got a win.
Now, this is the kind of argument I hate.
"Matt Serra got lucky. GSP would win 9/10!" Or "Gabriel Gonzaga's kick was lucky. No way he could do that again!"
C'mon. Everyone is so butthurt that their favorite fighters lost that they can't see the great performance put on by the underdog. Serra threw those punches with the intentions of them landing. He stayed calm, followed up, and stalked GSP. It was amazing skill that won that fight, not luck.
Gonzaga threw that high kick looking to take Mirko's head off. He threw everything behind it. And to those who say he could never do that again, why was Randy's arm broken?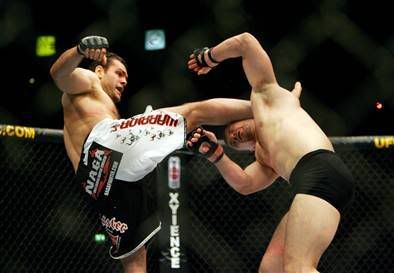 The whole point is, THERE IS NO LUCK IN MMA. Fighters throw punches because they want them to land. Fighters throw kicks because they want them to land. Everything a Martial Artist does has a point to it, and there is no luck about it.
Views
900
Comments
3
Comments
Posted 01-05-2008 at 11:44 AM by

Kameleon

Posted 01-05-2008 at 08:54 PM by

GMW

Posted 01-06-2008 at 06:15 AM by

davidm724
Trackbacks