View Poll Results

: Who is most likely to get into a bar fight?

CornbreadBB
5
16.13%
Xeberus
17
54.84%
Coldcall420
3
9.68%
JP
0
0%
Biowza
4
12.90%
Wukkadb
2
6.45%
Voters: 31. You may not vote on this poll
***END OF THE YEAR AWARDS***Bar Fight Award (2009)
---
What's good everyone? This award is for the member most likely to get into a bar fight. Remember, it doesn't matter if they'd win or lose said fight, just that they'd be in said fight. VOTE NOW!!

Voting ends in 1 week so think hard and make it count!
---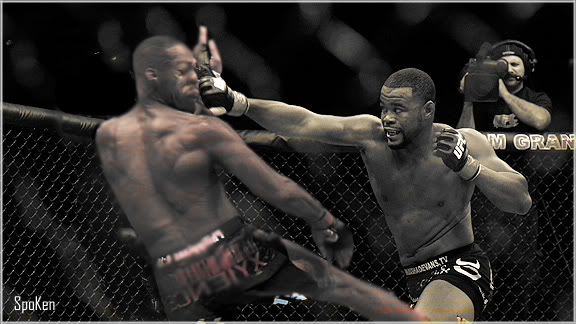 Sweet sig by Life B EZ
I feel like I get paid way to much money, but not enough -Nick Diaz
Banned
Join Date: Aug 2007
Location: banned
Posts: 0
I gotta go with Xeberus on this one....
Xeb all day on this one....
---

Thanks to Toxic for the Awesome Sig!
Even if the whole world is against you, one thing will never let you down. That thing is beer.
none other than the forum drunk.
Curitiba Food and Liquor

Join Date: Dec 2006
Location: NY
Posts: 16,176
Xeberus.

Wait, with a person or a tree?

Still Xeberus.
---

Sig Credit to Toxic

Damn, it's CB all the way for this one...
---
_RIVALS TOP 10

ANDERSON "THE SPIDER" SILVA
JAKE SHIELDS
NICK DIAZ
EDDIE ALVAREZ
JUNIOR "CIGANO" DOS SANTOS
GILBERT MELENDEZ
MAMED "THE CANNIBAL" KHALIDOV
HECTOR "SHANGO" LOMBARD
CAIN VELASQUEZ
GEGARD "THE DREAM CATCHER" MOUSASI

I don't see Xerbus getting into fights, I imagine him being that guy nobody understands.
---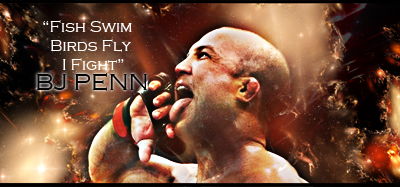 "If you get hit and it hurts hit him back you not knocked out yet."-Joe Doerksen
The Toxic Terrors (FFL)
Demetrious Johnson*Eduardo Dantas*Emanuel Newton*Will Brooks*Michael Page
Gotta go with Xeb. I'm the person most likely to get beat up at a bar.
---

Join Date: Jun 2009
Posts: 20,898
I knew the what the outcome of this would be before I voter haha!

Xeb!
I worked my way down the end of the year awards, saw this one... I kinda knew before I opened it
---
If a law is unjust, a man is not only right to disobey it, he is obligated to do so. ~ Thomas Jefferson
Sig by D.P.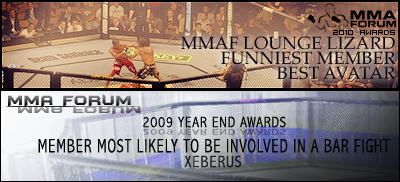 Currently Active Users Viewing This Thread: 1

(0 members and 1 guests)
Posting Rules

You may post new threads

You may post replies

You may not post attachments

You may not edit your posts

---

HTML code is Off

---