Curitiba Food and Liquor

Join Date: Dec 2006
Location: NY
Posts: 16,176
Drake "Still Fly" freestyle.

Talib Kweli "Hot Thing"

Flaw "Get Up Again"
---

Sig Credit to Toxic

Invictus Maneo
Join Date: Sep 2009
Location: Boston, MA
Posts: 983
Thousand Foot Krutch - Move....
---
The Kill (Bury Me) | Thirty Seconds To Mars
Are You Gonna Be My Girl | Jet
Right Here | Staind
Freak On A Leash | Korn
Alive | P.O.D.
Headstrong | Trapt
Welcome To My Life | Simple Plan
Remedy | Seether
Just Like You | Three Days Grace
Poem | Taproot
Take It Off | The Donnas

Smooth Criminal | Alien Ant Farm
In Too Deep | Sum41
Running Away | Hoobastank
Awake | Godsmack
Downfall | Trust Company
Let Me Go | 3 Doors Down
The First Time | Lifehouse
Flavor Of The Week | American Hi-Fi
Heaven | Live
Bodies | Drowning Pool
Machinehead | Bush
Wrong Way | Sublime
Movies | Alien Ant Farm

Plush | Stone Temple Pilots
So Far Away | Staind
The Reason | Hoobastank
One Thing | Finger Eleven
Wonderful | Everclear
Malibu | Hole
Perfect | Simple Plan
Be Like That | 3 Doors Down
Clumsy | Our Lady Peace
December | Collective Soul
Swallowed | Bush
Selling The Drama | Live
Bad Day | Fuel
Don't Look Back In Anger | Oasis
Round Here | Counting Crows
You And Me | Lifehouse
whats my age again - blink 182 (i only have the musical part, no lyrics)
im burning for you - blue oyster cult
Light My Fire Doors
Stairway to Heaven Led Zeppelin
Truckin' Grateful Dead
Purple Haze Jimi Hendrix
Good Vibrations Beach Boys
Like A Rolling Stone Bob Dylan
Hey Jude Beatles
Imagine John Lennon
Dust In the Wind Kansas
Dream On Aerosmith
More Than a Feeling Boston
Take It to the Limit Eagles
Still Haven't Found . . . U-2
Beautiful day - u2
25 or 6 to 4 Chicago
Roxanne The Police
Aeorsmith- Walk This Way
Kiss- Rock and Roll All Night
guns n` roses:sweet child of mine
Pearl Jam-Alive
Smells Like Teen Spirit - Nirvana
Crazy Train - Ozzy Osbourne
Rob Zombie: Dragula
rob zombie - numb
Back in Black - AC/DC
ERIC CLAPTON-LAYLA
yellowcard- life of a salesman
blue oyster cult - don`t fear the reaper
rob zombie - living dead girl
Greenday- Time of your life


in no order
---
If a law is unjust, a man is not only right to disobey it, he is obligated to do so. ~ Thomas Jefferson
Sig by D.P.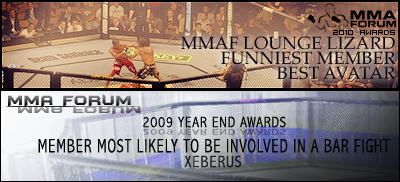 ---
"He who defeats himself is the mightiest warrior" - Confucius(I think)
Lil Wayne No Ceilings The Whole Album
---
"If I had to pick the single greatest player on the planet, I take Kobe Bryant, without hesitation." -Michael Jordan
Bantamweight
Join Date: Jan 2008
Location: Ireland
Posts: 595
Ground'n'Pound I know you love this one!


Lightweight
Join Date: Dec 2009
Location: Chicago in my heart, Mabank Texas under my feet.
Posts: 1,828
Mission of Burma nice stuff..........


Recently its been the Soledad Brothers and a lot of Lou Reed.

Lou Reed is always better to listen to during the colder months........
Rich Boy - Throw Some D's
, and i've got
The Roots
waiting for me.
Join Date: Jun 2009
Posts: 20,898
Currently Active Users Viewing This Thread: 1

(0 members and 1 guests)
Posting Rules

You may post new threads

You may post replies

You may not post attachments

You may not edit your posts

---

HTML code is Off

---