---
''You probably thought this was a bright idea, who hit the light switch? Hype shift, this is where it looks like the fight's fixed, tight fist, beat you with the hand that I write with, punchlines that remind Rodney King of the night sticks...''
---
If a law is unjust, a man is not only right to disobey it, he is obligated to do so. ~ Thomas Jefferson
Sig by D.P.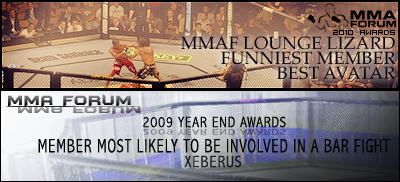 Quote:
I know everyone loved the last thread, but I couldn't stand to see "Rush" get points for each reply, since his dumb ass has been banned for a while now.

So, we're gonna start all over new.

Here we go:

Redman - "Pimp Nutz"
Immortal tech - any track
---
''You probably thought this was a bright idea, who hit the light switch? Hype shift, this is where it looks like the fight's fixed, tight fist, beat you with the hand that I write with, punchlines that remind Rodney King of the night sticks...''
Curitiba Food and Liquor

Join Date: Dec 2006
Location: NY
Posts: 16,176
Arab Money/Busta Rhymes & Ron Browz.

Still trying to figure out if this song is offensive to Middle Eastern people. It's a "is this cool or not? I can't tell" moment.
---

Sig Credit to Toxic

Bantamweight
Join Date: Feb 2007
Location: Vienna
Posts: 977
MMA Fanatic
Join Date: Aug 2009
Posts: 21
Jeff Buckley - Hallelujah
---
If a law is unjust, a man is not only right to disobey it, he is obligated to do so. ~ Thomas Jefferson
Sig by D.P.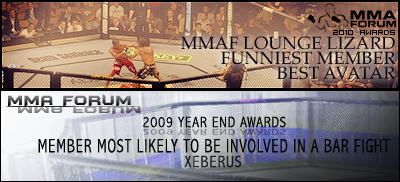 Currently Active Users Viewing This Thread: 1

(0 members and 1 guests)
Posting Rules

You may post new threads

You may post replies

You may not post attachments

You may not edit your posts

---

HTML code is Off

---