James Gandolfini dies at 51
---
http://entertainment.time.com/2013/0.../?iid=tsmodule
Quote:
James Gandolfini, star of the hit HBO series The Sopranos, has died at age 51. The actor suffered a heart attack while attending the Taormina Film Festival in Sicily, according to TMZ.
Gandolfini, born in Westwood, New Jersey, earned a degree in communications from Rutgers in 1983, turning to acting after brief stints as a bouncer, bartender, and club manager. He took classes at the famed Actors Studio and earned roles in school productions. Gandolfini made his Broadway debut in 1992, performing opposite Jessica Lange and Alec Baldwin in A Streetcar Named Desire.
He had made a few minor appearances in films, but it was after his memorable role in 1993's True Romance that he found steady work in Hollywood, appearing in such 1990s films as Get Shorty, Crimson Tide, and A Civil Action. More recent projects included roles in The Taking of Pelham 1 2 3 and Zero Dark Thirty (in which he played CIA director Leon Panetta).
But it was a small-screen role — that of troubled crime family boss Tony Soprano — that catapulted Gandolfini to stardom and earned him every imaginable accolade. His work on The Sopranos, which ran from 1999 to 2007 and is widely regarded as one of the greatest television shows, won him three Emmys for "Best Actor in a Drama" and landed him a hefty salary that eventually paid him close to $1 million per episode.
He is survived by his wife Deborah Lin, whom he married in 2008, their infant daughter Liliana Ruth, and a son from a previous marriage.
Read more:
http://entertainment.time.com/2013/0...#ixzz2WiNguexV
Talented actor gone too soon. RIP.
At first I thought this was a joke man. That effin sucks. Dude was a genius. All hail the man who played one of the best TV characters of all time.
---
Marcus Aurelius: Tell me again, Maximus, why are we here?
Maximus: For the glory of the
Empire, sire.
Baked, not fried... the healthy choice.
Quote:
I saw him just last week at an event. He was supposed to be seated at a table with a bunch of stars (Alec Baldwin, Elaine Stritch, Bernadette Peters, etc.) but the table ended up full due to some kind of miscommunication. He could have made a thing of it, but instead, he walks over to a table filled with a bunch of acting students, sits down, and begins chatting them up. Didn't even blink an eye. He was a fantastic actor, but more importantly, he was down to earth and a stand up guy, and this makes me incredibly sad.
From Reddit. This breaks my heart, all the hours I've spent watching The Sopranos. The guy was pure greatness and class and I doubt the Tony Soprano character will ever be topped. Sucks that he died before his time but atleast he leaves an incredible leagcy. RIP.
---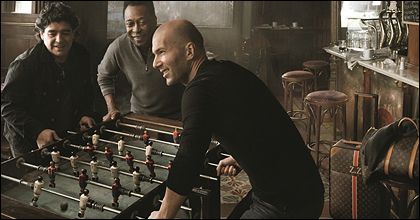 This comes as a bit of a shock to me, and offer my condolences to his friends and family. Great actor and really enjoyed most of his work as well. RIP
---
1. BJ "The Prodigy" Penn
2. Dan "Hollywood" Henderson
3. George "Rush" St Pierre
I was thinking playing that role must have aged him at least a decade. All that anger, anxiety, and emotions...didn't seem like acting...it was that authentic. He was on onscreen 90% of the time. Man I would have loved to see a Sopranos film.
Some quotes I read on Reddit.
Tony's swimming with the ducks in heaven.
He finally gave Tony B. his briefcase.
Just saw him in Zero Dark Thirty. What a powerful actor personified.
I'm just glad he gave us his magnum opus. I'm sure they'll put up a statue of him in Jersey down the line as the Governor deemed him a New Jersey treasure.
Quote:
James Gandolfini's fans and colleagues shared reaction to his death Wednesday:

_ "He was a genius. Anyone who saw him even in the smallest of his performances knows that. He is one of the greatest actors of this or any time. A great deal of that genius resided in those sad eyes. he was my partner. ... He was my brother in ways I can't explain and never will be able to explain." _ David Chase, creator of "The Sopranos."

_ "James Gandolfini. This is a tremendous loss. A brilliant actor and a wonderful man. Our deepest sympathies to his family. Devastating." _ Actor Michael Chiklis on Twitter.

_ "The great James Gandolfini passed away today. Only 51. I can't believe it." _ Bette Midler on Twitter.

_ "It's an awful shock. James Gandolfini was a fine actor, a Rutgers alum and a true Jersey guy. I was a huge fan of his and the character he played so authentically, Tony Soprano. I have gotten to know Jimmy and many of the other actors in the Sopranos cast and I can say that each of them are an individual New Jersey treasure." _ New Jersey Governor Chris Christie.

_ "James Gandolfini what a nice guy, so funny and sweet. He will be sorely missed. Our deepest condolences to his family." _ Aerosmith guitarist Joe Perry on Twitter.

_ "I am heartbroken about James Gandolfini. He was a gentle giant and great man. I love this picture, I loved him." _ Actress Rose McGowan, who posted a snapshot of her and Gandolfini on Twitter.

_ "My condolences to the family and all those who loved James Gandolfini - a true NJ Great and NJ Original. RIP." _ Newark Mayor Cory Booker on Twitter.

_ "You will be missed greatly James Gandolfini Maybe best actor ever on a tv series. Salute'" _ Comedian Artie Lange on Twitter.

_ "awful awful news. James Gandolfini will be missed. He was a great actor. Just great." _ Mia Farrow on Twitter.

_ "James Gandolfini. Unbelievably sad news. A fine man." _ Steve Carell on Twitter.

_"My thoughts and prayers go out to James Gandolfini's family. An extraordinary actor. RIP, Mr. Gandolfini." _ Robin Williams.

_ "Fifty-one and leaves a kid -- he was newly married. His son is fatherless now ... It's way too young." _ Joe Gannascoli, who played Vito Spatafore on "The Sopranos."

_ "James Gandolfini.. So talented, so nice and far too young to be taken away. You will be missed Sir" _ Actress Shannen Doherty on Twitter.

_ "R.I.P. James Gandolfini. Such a great actor. More than just tony soprano and that would have been a lot on its own." _ Musician Rob Thomas on Twitter.

_ "I am so deeply saddened by the untimely passing of sweet James Gandolfini! My heart is broken for his family!! I'm in shock worked with him in "Surviving Christmas"" _ Christina Applegate on Twitter.

_ "James Gandolfini was a kind, funny, wonderful guy. I'm so lucky to have worked with him. Sending love to his family. Such a sad, sad day. worked with him on "The Incredible Burt Wonderstone"" _ Olivia Wilde on Twitter.
http://poststar.com/entertainment/na...ce80c5ca4.html
---
Marcus Aurelius: Tell me again, Maximus, why are we here?
Maximus: For the glory of the
Empire, sire.
Baked, not fried... the healthy choice.
You're not terribly important to me

Join Date: Jul 2010
Location: Sell me this pen
Posts: 15,507
I hate the world all the great actors and comics etc all die young and we are left with shitty actors and musicians and only a few good comics.
---
Jim Norton
Nick Dipaolo
Dave Attell
Dave Chappelle
Bill Burr
Joey Diaz
Colin Quinn
Bob Kelly
Rich Vos
Patrice O'Neal
Louis CK
The brightest stars burn out the fastest.

James Gandolfini - Inside The Actors Studio May 2013 | James Gandolfini

---
Marcus Aurelius: Tell me again, Maximus, why are we here?
Maximus: For the glory of the
Empire, sire.
Baked, not fried... the healthy choice.
---
Last edited by No_Mercy; 06-20-2013 at

01:27 AM

.
RIP, good actor and guy. My condolences to his family.
I bet James Sarumanini had something to do with this.
Ok with that terrible lord of the rings pun I'm outta here
.
Currently Active Users Viewing This Thread: 1

(0 members and 1 guests)
Posting Rules

You may post new threads

You may post replies

You may not post attachments

You may not edit your posts

---

HTML code is Off

---