International Stalker
Join Date: Nov 2006
Location: San Diego
Posts: 5,203
I recently quit but it actually is a really fun game, to bad I can't play WoTlK, that's probably gonna be the best of it.
---
Credit to ThaMuffinMan
i quit jsut after 2.3 i had done 6/6 SSC, 4/4 TK, 6/6 ZA then i got bored and just cbf playin anymore, it was taking up waaay too much time liek (was raiding monday wed thurs sunday for about 5 hours each)
I used to play.

Im trying out AoC at the moment. It's pretty interesting.
---
Quote:
I used to play.

Im trying out AoC at the moment. It's pretty interesting.
I left WoW after about 3 years when AoC came out and I've been playing that since launch. I don't know, to be honest it's not that great a game imo. The combat system is terrible for pvp which is strange because it was supposed to be a game designed around pvp. The UI is terrible as well. The graphics are really nice and the character detailing is great, but if the game play sucks it doesn't matter how nice the game looks.
I'll be going back to WoW when the next expansion comes out. I'll probably check out Warhammer when it comes out too but I haven't heard great things thus far.
---
-----------------------------

"I does work" - Brett Rogers

"I don't know what kind of technique was used there, but there was a lot of kicking and punching." – Jim Brown
I havent really played AoC in a while. I guess I'm over MMORPGS... they get boring
---
Juggnuttz
Troll Shaman
Hakkar

i dont play much anymore, grinding for my epic flyer and doing dailies has gotten me bored.


i too just started playing Age of Conan, im liking it, very bloody and adult orientated. just got into it so im not to far, just hit lvl 19 on my ranger on Deathwhisper server. same name Juggnuttz if anyone has a char there.
---
Made by DP
R.I.P. Evan Tanner, you will be missed....
WWNPHD?
i used to play but got to level 30 and it just seemed a bit repetative but i was millen,warrior(orc), bloodhoof
only stoped playing last month
I played for a bit.

In 2005+
60 rogue bodybagger - started arthas transfered to nathrezim

60 rogue sypha - the best players in the game were horde on nathrezim, so I deleted bodybagger and created sypha.

After BC:
70 rogue Xecks
On 1/14/2008 I was rated the 2nd best rogue in america next to buddhist.

The best things I ever did on wow was beat: ming, juggernautx, kishkumen, athene and Neilyo at different pre-arranged 3 fight matches with rules we deemed fair.

I quit wow as it became boring after mastering a good part of the game.
---
If a law is unjust, a man is not only right to disobey it, he is obligated to do so. ~ Thomas Jefferson
Sig by D.P.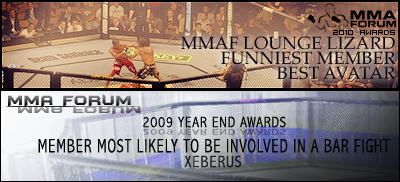 Quote:
Then don't post here.

I still play. I can't wait til the Lich King comes out.
Ahaha. This made me LOL.
I love you Kam.
---
You don't know who I am? You must be new.

This is SPARTA!
Join Date: Apr 2006
Location: Houston, Texas
Posts: 5,495
Quote:
Ahaha. This made me LOL.
I love you Kam.
I love you too.

Not sure what's funny?
---

Currently Active Users Viewing This Thread: 1

(0 members and 1 guests)
Posting Rules

You may post new threads

You may post replies

You may not post attachments

You may not edit your posts

---

HTML code is Off

---