Quote:
Originally Posted by plazzman
damn thats nice

do you need to beat the game to get your guy to look like that or what?

PS: M__D, that 3 red lights of death thing, FAWK! We went thru 2 xbox this weekend and so we still havnt managed to beat the game
Thanks, The helmet is the ODST one, and the shoulders and body piece are EVA. I got the shoulders and Body piece by beating the game on normal, and i got the helmet by playing a certain number of online games, i think it was spartan graduate or something like that.
---
Top 5:
Rampage
Mark Hunt
Anderson Silva
Clay Guida
kazuhiro nakamura
Homicidal Maniac

Join Date: Apr 2007
Location: Houston, Texas
Posts: 6,193
You can unlock armor different ways for different pieces, beating the game on different difficulties, becoming a leutenant ect.. some achievments get you armor plus getting all the skulls gets you armor( by the way we found a 14th one that does nothing but you can hold it)

I have changed up my armor since my pic and my guy looks bad a** hopefully I will have a pic soon.

a few of my friends have the samurai sword know for the got all 1000 achievments which is cool and I would sport it.

I do feel that getting some of the achievments through ranked rumble is stupid for I hate using vehicles and honestly think th eghost should be taken out but yeah besides the point.

I have not been able to rank up like I wanted for my friends all want me to get them up in team slayer so I have not been able to focus on my level in rumble but I am over 40 now in both rumble and slayer and once I can have a day or two to work on my rumble I will get my 50 for I have friends that are way worse then me at 45 to 48's, plus rumble is the fastest way to rank up for all you have to do is get in the top 3

Anybody else notice that it is damn near impossible to headshot elites now for some reason, I am a sniper in both halo 2 and 3 and for some reason it is damn hard to get headshots on elites now
---
Over! 2,000,000 Views!
I don't think I've had a problem. Most of my kills come by sniper.
I change up my look all the time.
I wish you could use that knife on the front of my chest plate.
-I came|I saw|I failed-
Join Date: Mar 2007
Location: The plazzVan
Posts: 9,734
Man, for the past couple of days I thought Halo 3 was the greatest game in the world, but then today I realized it had one of the shittiest endings ever.

WTF,isnt the ending just like Halo 1 with the getaway chase?

And why is it so brief, it doesnt explain anything and just abruptly ends
Play again and make sure you watch all the way through the credits. Don't skip anything. Not sure if you have to play on Legendary or not, but there is more to the ending than you think.

By the way, I like the last level. I enjoyed the ending to Halo 1 better than Halo 2 so it was awesome for me. To see a cool easter egg, right in the last seconds of the level before you make the final jump STOP and get out. Look to the right and you should see a hidden GRUNT that will not attack you. He just says some crazy stuff to you when you walk over to him.
Homicidal Maniac

Join Date: Apr 2007
Location: Houston, Texas
Posts: 6,193
hey i will go try that sns thanks for the tip about the grunt, is it just some crazy stuff or is it like the red vs blue guy in the earlier levels
yah plazz there is more after the credits and more after those lol
by the way here is my updated spartan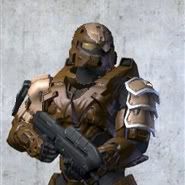 ---
Over! 2,000,000 Views!
I have an elite, lol, I feel so alone, but I actually do better as an elite, then I do a spartan.
---
Quote:
"I assure you, whatever the others promise to do, when it comes to the showdown, they won't be there... "
Here is my elite..
I'll have an image up of my spartan tomorrow, because bungie hasn't updated my picture yet. Here are some screenshots though. I finally got my sword on my back and the Marathon helmet...
Banned
Join Date: Jul 2007
Location: Alberta Canada
Posts: 2,543
(in reply to second picture)

KHHHHHHAAAAAAAAAAAAAAAAAAAAAAAAAAAAAAAAAAAANNN!!!! !
Banned
Join Date: Sep 2007
Posts: 135
wow big step up from halo 2. i never knew you could be a ninja spartan!
Currently Active Users Viewing This Thread: 1

(0 members and 1 guests)
Posting Rules

You may post new threads

You may post replies

You may not post attachments

You may not edit your posts

---

HTML code is Off

---