Outta My Head
Join Date: May 2006
Location: Paramount, CA
Posts: 1,220
Forgotten Games: Lester the Unlikely
---
Hey all... I thought I'd throw up another piece on a long lost game that most probably haven't heard of, and that most probably won't ever think of looking at. Thankfully, with the wonderment that is Emulation, this title is easily accessible (even if you are not so "technically inclined"). This evening, I take a look at: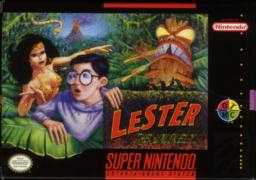 Lester the Unlikely
Lester the Unlikely was released on the SNES system in 1994 by
Visual Concepts
. Visual Concepts is a California based developer that came into prominance working with publishers like Virgin Entertainment and Interplay with titles like Claymates and Clayfighter. They were later picked up by Sega as the primary developer behind many of the "2K/ESPN" series of sports games. In 2005 they were sold to Take-Two Interactive and with continue developing games with Take-Two Interactive under the
2K Games
Publishing Label. Long before having a hand in staving off EA's monopolistic control of popular sports titles, Visual Concepts handled the development of Niche games on both the SNES and Sega Genesis. Lester the Unlikely is one of their more (in)famous titles from that time.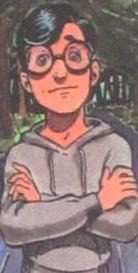 The Hero (?!) Lester
Lester the Unlikely is a platforming Action/Adventure title cut from the same cloth as the original
Prince of Persia
,
Out of This World
, or
Flashback
. It featured rotoscoped animation (described as "Geek-O-Vision" in the game's instruction manual) that heralded detailed character animations. As a result, Lester didn't only look like a geek, he moved like one also.
The premise of Lester the Unlikely is that Lester is your
stereotypical
geek. Where most might think that "geeky" may be palatable in small degrees, Lester is full bore, hopelessly, embarassingly geeky. If the opening
intro sequence of the game
doesn't make that blatantly obvious, a few steps into the game it becomes undeniable that Lester exhibits the self-esteem and bravado of your stereotypical, four-eyed, basement-dwelling, socially inept teenager.
In fact, that is probably the greatest point of contention with many current reviewers of this particular game. In an industry where your protagonists are typically lone armies of destruction (Master Chief of Halo), ruthless criminals (Tommy Vercetti of GTA:VC), urbanly hip (CJ of GTA:SA), super-powered (take your pick), iconic and cartoony (Mario or Sonic the Hedgehog)or straight out of a Victoria Secret's catalog (take your pic of any number of female game leads) we find Lester who is none of that. In fact, he really isn't even considered average as he's so geeky it feels like you're dealing with the kid that everyone made fun of in grade school (you know the one). In short, Lester is the guy that no one really wants to be, and even less expect (or hoped) to see succeed at anything at all. Lester is the anti-badass to the point that it's very painful to deal with him at first.
However, venturing deeper into the jungle island he's stranded on does have its merits. If you are familiar with the original Prince of Persia games (or any of the games I listed earlier) gameplay is an easily understood and grasped undertaking. Just like those games, the majority of gameplay consists of climbing ledges and jumping gaps. Similarly, Lester is not Mario, and is not able to withstand large falls or traverse 30-yard jumps. Many of the obstacles are easily figured out (a lot of the puzzles involve picking up items in one place to drop them in their appropriate spots elsewhere on stage, or pushing/pulling items into place to use as platforms to jump off of), and a lot of the most frustrating moments are usually solved with what is easily accessible (kicking over the Tiki Totems... I remember that). That isn't to say that the game doesn't frustrate at time (again, if you aren't already frustrated with dealing with Lester anyways), but none of the obstacles are solved by anything completely convoluted as finding a coffee can and opening it to find an egg, only to find that once the egg is hatched you find a key in place of a chick so you can now open that locked door you found 10 minutes into the game.
No Lester isn't mired into that as he tranverses the games levels. In his quest to find a way off the island he runs the gamut of enemies from beach crabs and sea turtles (no I'm not kidding) to maniacal gorillas and the pirates who scuttled the ship he was on that got him stranded in the first place. During his ordeals (around the time he saves the Chief's daughter), Lester begins to gain a backbone and confidence, and it shows in his actions. Lester begins to stand upright, and the animation of his actions are more direct and purposeful instead of the squalid flailing he started with. Lester's character devlopes in a subtle way, which is quite remiss in this age of full-motion video and CGI cutscenes.
You see Lester change instead of having the game narrarate it out for you in an overt, blatant manner
.
Lester at the beginning of the game...
Lester post gorilla-busting.
But that isn't to say that all is good in Lester's misadventures. The contact/collision points for jumping up and down platforms can be real strict, and you will find yourself trying to figure out where Lester needs to be in order to traverse over-hanging ledges a bit during the first few minutes of the game. Without any in-game tutorial or hints, this can be a deal breaker (especially in this day in age) as frustration can mount quickly. Further, some of the collision when attacking enemies seem to be real strict which leads to more than just a few "cheap" deaths.
However, my biggest gripe with this game is that
there is no save system at all.
You simply start the game with 4 continues and 3 lives a pop. If you can't finish the game, well you're going to start over from the beginning. Considering that this isn't a game that is easily passed on the first try,
I find that glaring ommission horrible
from a technical point of view. Sure you can use the level select cheat (the only cheat avaialable in the game) to get to the final stages if you can't pass the intermediate stages, but it still puts the player in a position where they have to play through to the finish in one sitting or they won't be seeing the "finish" to the game at all. I find that unforgiveable. Even a password system that would bring the player to their current stage would have done wonders for this game.
All in all, Lester the Unlikely is a very solid title (taking into account the period of time it was published). However, if you are not a fan of playing your games with a methodical approach this probably won't sit well with you.
Getting to a point where Lester isn't scared of every new thing that comes up can be trying
, but once you get passed all that you have a solid action title that sports good animation and graphics, a hero with actual character, and a memorable title. So take it for what it's worth, that's my objective (re)view on the game. If you've played it and you hated it I doubt I've changed your mind. I'm just going to offer what my observances with actual reason (much more than the oft profanity laden reviews you can find on this game on
youtube
).
---
It doesn't matter if you agree or disagree
... As long as I don't bore you and I spark a moment of thought,
my goal is achieved
.
Queng leon queng tigre ecu tacacut, queca pa? - Pampangan Mandarigma Motto

Hehe nice dig up there...I do not know why but bringing up these old games just reminded me of Strider. I need to find that game.
Currently Active Users Viewing This Thread: 1

(0 members and 1 guests)
Posting Rules

You may post new threads

You may post replies

You may not post attachments

You may not edit your posts

---

HTML code is Off

---