Quote:
I picked up the game a few days ago. It looks amazing and the physics engine is incredible but the control are extremely annoying. Maneuvering and Aiming is not sensitive enough for my taste because I'm used to fast paced shooters wheras this one is extremely slow and clunky.

Unlike the first game, there is no secondary weapon on your rifles like the shotgun blast or grenade launcher.

I was really hyped about it. I liked to first one, but it was a letdown for me which I wasn't expecting given how high it was scored on various sites.
i thought exactly the same as you when i first got it, certainly takes some getting used to. but after a week or so you will be well used to it. the main thing which impressed me about killzone was the online graphics. so good when you compare it to games like COD and the Rainbow Six - Vegas where the graphics aren't true to the 1 player.
---
Favourite Fighters:

Dan 'The Outlaw' Hardy
Anderson 'The Spider' Silva
Renato 'Babalu' Sobral
Michael 'The Count' Bisping
Thiago 'The Pitbull' Alves
Kenny 'Kenflo' Florian
Quinton 'Rampage' Jackson
I downloaded the demo, but I also found the controls to be clunky and unresponsive.
OK, I have to admit that once I got the hang of this game, it's incredible. It does take a little bit longer, just because of the absolute chaos that you fight in, but once you get used to, wow.

Anyone that wants to get it, but is worried about not liking, should let that fear go. Great game to say the least!
---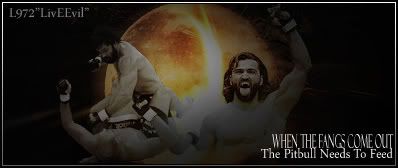 glad you've come to like it dude! imo its the best ps3 game released yet. Not played res 5 yet so that may change.
---
Favourite Fighters:

Dan 'The Outlaw' Hardy
Anderson 'The Spider' Silva
Renato 'Babalu' Sobral
Michael 'The Count' Bisping
Thiago 'The Pitbull' Alves
Kenny 'Kenflo' Florian
Quinton 'Rampage' Jackson
Currently Active Users Viewing This Thread: 1

(0 members and 1 guests)
Posting Rules

You may post new threads

You may post replies

You may not post attachments

You may not edit your posts

---

HTML code is Off

---