Quote:
Tyson
When We Were Kings(All time fav.)
Tupac:Thug Angel
The Assassination Of Tupac
Any documentary on animals.

And of course.........





I've only seen like the first 20 minutes of King Of Kong and i really want to see the rest but can't find the DVD any where.
Netflix should have it, it was on the steaming list for a long time, was taken down, but id bet it will be back on there soon. just checked its on dvd but not streaming.
---
Made by DP
R.I.P. Evan Tanner, you will be missed....
WWNPHD?
Super Heavyweight
Join Date: Jan 2010
Location: Latvia
Posts: 4,111
Nice topic. I'm a pretty huge documentary fan myself, but never seem to find some time to just sit down and watch one.
Finished watching Bigger, Stronger, Faster a couple of minutes a go. I liked it.
After I saw it, wanted to check out how is Mike Bell doing and I'll be.. died the same year the movie came out.
P.s. I also found a site where you can watch tons of documentaries. Here's the King of Kong one -
http://topdocumentaryfilms.com/king-...tful-quarters/
I always liked "supersize me"
---
If a law is unjust, a man is not only right to disobey it, he is obligated to do so. ~ Thomas Jefferson
Sig by D.P.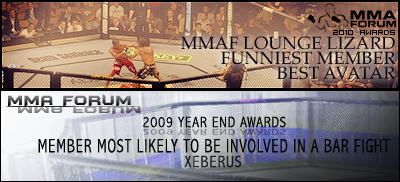 The Cove. Budhisten mentioned it a few days ago in another thread. I watched it a few months ago, it's extremely enlightening and absolutely brutal, disgusting and shocking.

Jesus Camp. Wow. It's disturbing and funny all in one. Brain washed doesn't even begin to explain it.
---

"There are three things all wise men fear: the sea in storm, a night with no moon, and the anger of a gentle man."
I wish there was a really good MMA documentary.
---
Quote:
I wish there was a really good MMA documentary.
"Choke" about Rickson Gracie, "The Smashing Machine" about Mark Kerr... they about the old days mostly tho, but still very very good! i would LOVE some new age ones tho...
I did watch "The Rise and Fall of WCW" a couple weeks ago... really brought me back to my childhood... also "The True Story of WrestleMania PT. 1" i watched the same day.... both on Netflix.... just something that i felt in the mood for, and i love the behind the scenes stuff on just about anything, i get the special edition DVD's so i can watching "the making of..." parts......
---
Made by DP
R.I.P. Evan Tanner, you will be missed....
WWNPHD?
Currently Active Users Viewing This Thread: 1

(0 members and 1 guests)
Posting Rules

You may post new threads

You may post replies

You may not post attachments

You may not edit your posts

---

HTML code is Off

---