Stupid Neg Rep Has To Stop
---
I might be the only one on here that is just getting feed up with all the neg rep that is being handed out for no reason, but I wanted to see if others are feeling the same way.

It is just getting stupid right now. Pretty much any post that gets put up right now, there's a good chance that it's going to get some red.

This is the kind of thing that takes a great forum and makes it where people don't want to be apart of it anymore.

The + rep is there to let people know that they posted something that either had great insight, made people laugh or otherwise brought something to the thread that the other members enjoyed reading.

The - rep is there to let people know that the post was either off topic, distracting from the thread, trolling for a fight or other wise taking away from the enjoyment of the other posters.

I just think that we need to make it where you can't leave anonymous rep any more. Good or bad.

I hate to be one of those guys now, but it will help to keep things in order.

Am I way off base here or not??
---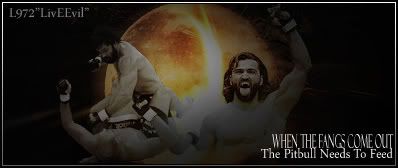 I could care less myself but obviously it bothers you. Still I don't really think much can be done about it.

I don't really notice the green things under someone's name but rather the actual PERSON. For example I can't tell you how many greens Damone has but I always do enjoy reading his replies they are usually pretty accurate and such.
This is SPARTA!
Join Date: Apr 2006
Location: Houston, Texas
Posts: 5,495
Don't make threads about neg reps. When you do, it lets the neg reppers know that it will piss you off and they will keep doing it. If you want to know who is neg repping you, send me a pm with the date and time of the neg reps and I'll tell you who it is.

Thread Closed.
---

Currently Active Users Viewing This Thread: 1

(0 members and 1 guests)
Posting Rules

You may post new threads

You may post replies

You may not post attachments

You may not edit your posts

---

HTML code is Off

---