International Stalker
Join Date: Nov 2006
Location: San Diego
Posts: 5,203
Quote:
Originally Posted by B-Real
He's a very good poster for sure. I have always been a fan of his posts. But being a good poster and being a good moderator are two entirely different things. I'm not saying that he would not be a good moderator, he probably would be but there is a lot more to being a moderator than just being a good poster.
What other criteria is used to judge someone for a moderator spot then?
---
Credit to ThaMuffinMan
I wanted to tell all of the new Mods Congrats!!!

Damone, without a doubt, this has been a long time coming for you. You have shown to be one of the most knowledgable, level headed posters on this forum and I think that you are very suited for the position.

SNS, Like BP said, you bring the news and tons of it! You too have shown to be a very level headed poster and that is a huge thing for a Mod.

Kds, I told you yesterday that I thought it was a great addition and looking at the team that they have put together now, you fit in even better!

B-Real, I'm still getting to know you posts and the graphics work that you do, but everything that I've seen looks to be worthy of the Mod status. Once again very level headed with your posts.

Congrats to all of you once again!!!
---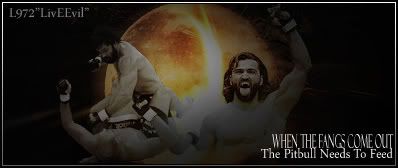 wow..........some good choices there guys..........I am glad that some of these guys are getting a chance to step up and I am sure they will perform.......

As for the last Mod spot........well there alot of good canidates.........lots of active members that would make good mods............though choice for Trey and the other S-mods
---
[SIGPIC][/SIGPIC]
Cripple Fighttttttttt
LHW Champ
Join Date: Dec 2006
Location: North Carolina
Posts: 1,377
Congrats guys...GREAT CHOICES.

WL2FU is a great choice.
---
"Believe In The Power Of One"
Evan Tanner 1971 - 2008
Flyweight
Join Date: May 2007
Location: Canada
Posts: 338
Congrates guys. Im sure u will all do great things.
Congrats To the New mods.. Keep up all the good wrok fellas..
---
.:H.O.F. Inductee:.
.:GFX-H.O.F. Inductee:.
Quote:
Originally Posted by GMW
What other criteria is used to judge someone for a moderator spot then?
This isn't me knocking on WL2FU as this is one thing I actually really like about him, if an argument were to come up about something, rather than trying to cool things down, he would keep things going. He may do things differently as a mod, I do not know, you would need to talk to him about that. I think he's a champion poster though. I am a fan of his.
This isn't something that should really be discussed with the rest of the forum but right now as far as I know, there isn't a huge need for another moderator. It seems like all the gaps have been filled, forum wise, not position wise. I'm not trying to bring the attention back onto me and the others but the higher ups will make the right choices so you guys should not have to worry about who gets given the staff positions and who doesn't.
Nice choices on the new mods, I'm a little sad to see Onganju demoted though, I thought he brought a lot of intelligent posts to the table and was a very articulate guy. I can understand why though being that he isn't the most active poster(2.05 posts a day). Congrats to everyone else though, and I agree being a good poster and a good mod are different things. I think a mod is the kind of poster who rarely argues(in an aggressive manner), and rarely fights over the intrawebZ(aka Damone).
---
What a stud
Quote:
The power of Aleks, his small baby and pimp hardcore dogs has granted you useful insight, my friend.
-I came|I saw|I failed-
Join Date: Mar 2007
Location: The plazzVan
Posts: 9,734
I have to say Im def one of the most active people here, sadly that isnt getting me anywhere. But true, Trey couldnt have picked more composed mods then these dudes
Currently Active Users Viewing This Thread: 1

(0 members and 1 guests)
Posting Rules

You may post new threads

You may post replies

You may not post attachments

You may not edit your posts

---

HTML code is Off

---