vBookie Event

: Luke Rockhold vs Tim Kennedy (Strikeforce: Rockhold vs Kennedy)
This event is over.
Strikeforce: Luke Rockhold vs Tim Kennedy
---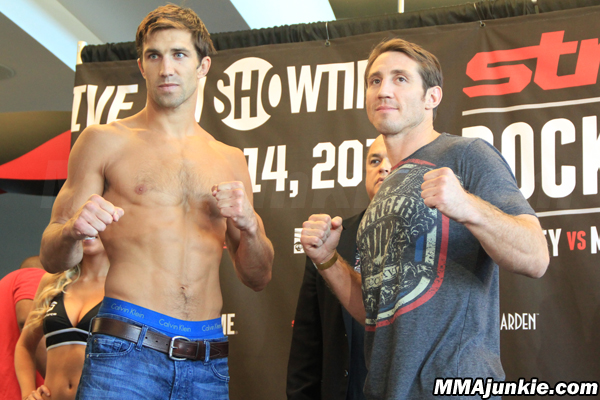 ---

Join Date: May 2008
Posts: 11,352
50k on Tim Kennedy doing my FFL team proud
Luke retains his SF MW belt.
---
Fedor Emelianenko:
The one who doesn't fall, doesn't stand up
Fedor Emelianenko
|
Anderson Silva
|
Carlos Condit
|
Frankie Edgar
|
Khabib Nurmagomedov
My girlfriend thinks that Luke Rockhold is a cute guy. But I'm not really going to take sides. That way I can truely enjoy the fight.
---
The Emoticon Guy
Quote:
Round 1 - "Big" John McCarthy referees this middleweight title fight. Touch of gloves and here we go. Rockhold stalks, and Kennedy keeps him back with a right hand. Rockhold with a charging left. Kennedy weigh a leg kick. Rockhold goers high with a kick. He misses on a combo but presses Kennedy to the cage and knees the legs. Kennedy goes to the body with a knee. Kennedy trying to escape, no dice. Rockhold with a knee before peeling off. Kennedy misses with lunging right. Rockhold misses with a winging combo, and Kennedy misses on the counter before Rockhold presses things to the cage and knees the body. Kennedy tries an elbow in close, and Rockhold tenderizes the flanks before breaking off. Jab misses for Rockhold. Kennedy 's high kick is blocked. Rockhold is pressing in. Rockhold catches him moving backward and they careen across the cage. Rockhold can't land the shot, but he presses Kennedy to the cage. Kennedy picks him up and dumps him to the mat to great applause, and he's working to pass from half-guard. Rockhold trying to sit up, and Kennedy works to pass. Rockhold grabs an arm for a kimura. Kennedy's arm is free and Rockhold is cranking it, but Kennedy just takes the pain and stays on top. Rockhold manages to right himself, but Kennedy is still on him. They reverse against the cage, and Rockhold fires off body shots. A high kick from the champ that misses and a side kick from Kennedy close the round. MMAjunkie.com scores the frame 10-9 for Rockhold, though it's close.

Round 2 - Rockhold resumes his pursuit and Kennedy circles. v's high kick slaps Kennedy upside the head, and he leaps on Kennedy's back against the cage. Kennedy stands up as Rockhold punches the side of his head and elbows to the body. Kennedy controls an arm, which allows him to return to his feet. They touch gloves. Kennedy misses with hook but lands leg kick. Kick and jab land for Rockhold. Kennedy goes to the legs. Rockhold fires punches that are blocked. Rockhold punches to the solarplexus but misses a right and resets. Kennedy tries to make him pay on the next exchange, but no dice. Right hand lands for Kennedy. Rockhold lands a combo near the fence, and Kennedy shoots. Rockhold grabs and arm again, but Kennedy powers forward to the cage. Rockhold rights himself and tries to escape. Nice elbow from Kennedy in response to a hip toss attempt. They break. Glancing head kick for Rockhold. Spinning kick from the champ misses. Both miss on next exchange. Nice left hand for Rockhold. He's slightly ahead in striking exchanges. High kick slams into Kennedy, who's cornered again against fence. Rockhold leaps with knee and takes a right hand. Kennedy misses with hook. Rockhold again working him against the fence. Kennedy gets a verbal warning from McCarthy on something after the bell. MMAjunkie.com scores the frame 10-9 for Rockhold, giving him the 20-18 lead.

Round 3 - Rockhold again pressing whle Kennedy circles and waits. When Rockhold storms in, he ducks under and goes for takedown. Rockhold resists and knees the legs. Rockhold gets a warning for grabbing the fence to avoid a takedown. McCarthy stops the action and warns both fighters. Next fence grab will get a point deduction for Rockhold. Upon restart, it's Rockhold coming in again. He nails Kennedy with a right hand, and Kennedy retorts with leg kicks. When Rockhold returns fire, Kennedy ducks under for a shot. Rockhold reverses against the cage and peels off after a few short shots. High kick for Kennedy. Rockhold undeterred. Nice left counter on leg kick for Rockhold. Kennedy with a leg kick. Nice counter right by Kennedy. Rockhold is pressing, but Kennedy is countering better this round. He's adjusting and anticipating now. Rockhold combo, and he ducks under and dumps Rockhold to the mat, almost taking the back before Rockhold turns to him and presses up. Another scramble. and Kennedy almost has the back before being bucked off again. Rockhold counters with a kimura after standing up, and Kennedy keeps driving for a takedown. Rockhold escapes and gets up. Kennedy gamely ducks his punches, and Rockhold bullies him to the cage before missing a spinning kick and getting bear-hugged to the cage. MMAjunkie.com scores the round 10-9 for Kennedy, making it 29-28 Rockhold.

Round 4 - Rockhold storms in and meets a few leg kicks. He slaps Kennedy with a punch before Kennedy resets. Kicks from Rockhold are blocked, and leg kick lands for Kennedy. High kick for Kennedy partial. Leg kick lands. Rockhold chasing. Rockhold sprawls on a Kennedy takedown attempt, and we're back up. Rockhold with a nice counter to Kennedy's leg kick, and that one looked like it hurt. Rockhold punching in, and Kennedy allowing himself to be cornered yet again. Nice body kick as Rockhold closes. Nice head-body combo from Rockhold. Swinging punches miss for the champ. Body kick lands as Kennedy punches. Kennedy kicking to keep distance. Nice right to side of Rockhold's head, and Rockhold goes to the body. In terms of octagon control, he's got this fight. Nice right from Kennedy, but he catches a big punch that drops him, and Kennedy is all of a sudden scrambling. He sits up against the fence, and Rockhold drives for a takedown. Kennedy escapes and the audience cheers. Rockhold telegraphs a kick and guts a right hand. Kennedy does it again: When Rockhold charges he strikes first and muscles them to the cage. Rockhold turns them and wheels around to the back, but Kennedy gets to his. Rockhold grab a foot and scrambles to Kennedy's back to end the round. MMAjunkie.com scores the frame 10-9 for Rockhold. MMAjunkie.com has it 39-37 for the champ so far.

Round 5 - Touch of gloves, and we're back at it. Kennedy kicks away Rockhold, who keeps on cooing. Nice counter right from Kennedy, but he takes a left hand in return. Rockhold with high kick punch combo. Kennedy goes to the body with a kick and resets. Kennedy ducks under a punch and shoots. Rockhold sprawls, and Kennedy presses to the cage. Rockhold escapes and resets. Rockhold presses forward and tage Kennedy with a punch. Kennedy fires back to the legs, prompting Rockhold to charge again. Kennedy meets him and drives for a takedown. Rockhold grabs the torso and almost wheels around to the back before Kennedy scrambles and goes for his own takedown. He's got Kennedy trapped and knees to the body. Kennedy stands up and we're running out of time. Kennedy leads with a straight right. Kennedy ducks under punches but can't keep ahold of Rockhold. He kicks the body, and Rockhold does the same. Another side kick from Rockhold. Seventy seconds to go, and a lot of staring. Kennedy ducks under and shoots, but Rockhold stuffs it and reverses against cage, firing off knees. Kennedy looks frustrated. He can't find a way in. They clash in the middle of the canvas, and Rockhold drives them to the cage before peeling off. Kennedy drives for a takedown as the final bell sounds. MMAjunkie.com scores the final frame 10-9 for Rockhold, giving him the fight 49-46. Luke Rockhold def. Tim Kennedy via unanimous decision (49-46, 49-46, 49-46)
http://mmajunkie.com/news/29699/stri...on-woodley.mma
---
Yes, it was a long fight but it was a pretty darn good fight I'd have to say. I feel bad for Kennedy but it happens. Rockhold should be interesting in his continued reign as middle weight champion.
---
The Emoticon Guy
Currently Active Users Viewing This Thread: 1

(0 members and 1 guests)
Posting Rules

You may post new threads

You may post replies

You may not post attachments

You may not edit your posts

---

HTML code is Off

---