So... Did anyone catch the Bob Sapp fight on Saturday?
---
looking good Bob, looking good.



This is getting silly now...

He's most likely got another bout this weekend though. I here he still makes around £25,000 - $40,000 a fight so you cant blame him.
---
Member of the Anti-Fitching Society. Stop Fitching and Fitchery in MMA now!
-------FREE CHARLIE Z-------
FFL
'Roudy' Ronda Rousey, Fabricio Werdum, Vyacheslav Vasilevsky, Eric Koch, Alexander Sarnovsky
I'm sure he had one last Friday as well.
Megaweight
Join Date: Mar 2007
Posts: 5,499
Quote:
June 8th and June 16th are his next 2 fights. I think he said himself that he can't take much damage on a fight because of his schedule (don't quote me on that). Anyway, this guy is treating MMA like it was pro wreslting.
I want to hate him for what he is doing, but I can't. He knows he can't compete in the current MMA scene, it is too developed, plus he would never make the weight cut. He has done some acting here and there but all he really has is his MMA name, so he might as well sell it. Eventually people will stop buying it, but until it is something we have to deal with.
Amateur
Join Date: Oct 2010
Posts: 173
The title is misleading, I didn't see any fight there.

Join Date: May 2008
Posts: 11,383
He goes into a fight knowing full well that he is gonna dive down and tap at the first punch. This stupid bastard is throwing fights and commissions are letting it happen, he doesn't come in to fight, he's forfeited his right to be called a "fighter", the dude is an entertainer, a freakshow, and a damn poor one at that!
I missed the fight but let me guess.. Sapp loses badly in embarassing fashion within the first round?
---
If a law is unjust, a man is not only right to disobey it, he is obligated to do so. ~ Thomas Jefferson
Sig by D.P.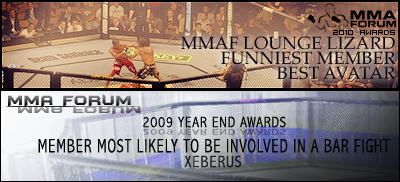 I would like to fight Bob Sapp please any promoters out there.
Currently Active Users Viewing This Thread: 1

(0 members and 1 guests)
Posting Rules

You may post new threads

You may post replies

You may not post attachments

You may not edit your posts

---

HTML code is Off

---