Join Date: Oct 2009
Location: UK... Where the sun never shines.
Posts: 11,557
Anthony Johnson Misses weight...again!
---
Quote:
May 24, 2012 - Another fight, another weight issue for Anthony Johnson. A Friday night bout that will mark his first since his UFC release has been reset at a 195-pound catch weight despite numerous previous announcements it would be contested at 185.

The Titan Fighting 22 bout was originally advertised as a middleweight bout, but on Thursday's edition of Bloody Elbow Radio, promoter Joe Kelly said that Johnson and opponent Dave Branch had signed catch weight contracts instead. Johnson weighed in at 194.2 while Branch was 189.2.

It appears though, that the change was quite recent. A press release distributed as recently as May 7 trumpeted the fight at 185, headlined "Top Middleweights Battle at Titan Fighting 22." In addition, in a recent interview, Branch made it clear that the bout was agreed to at 185. Finally, a feature produced by "Inside MMA" just this week confirms the fight was scheduled at middleweight.

Back in March, when he signed the deal with Titan, Johnson himself told MMA Fighting's Ariel Helwani that he was exclusively a middleweight.

During that interview, Helwani asked him, "You're confident, you can tell us right now, you can make that 185-pound limit when you fight on May 25th, right?"

"Yep," he said. "I'm always confident."

The promoter Kelly though, said the fight was contracted at the catch weight, though he didn't say if it had been altered recently. Branch's side told MMA Fighting that there was "no problem" regarding the weight.

Despite their grace in handling the situation, it's clear there is more to the story than they're letting on.

Johnson, as most fans are aware, has had a history of weight issues. His most recent came at UFC 142, when he was supposed to be making his middleweight debut but instead came in at 197 pounds. He eventually was submitted by Vitor Belfort and released by the UFC. Overall, he missed weight three times in the UFC.

Johnson is 10-4 overall. Branch, also a UFC veteran, is 10-2 with two straight wins since parting ways with the promotion.

Titan Fighting 22 takes place at Memorial Hall in Kansas City and airs on HDNet.
http://www.mmafighting.com/news/2012...st-dave-branch
This guy is a joke.
'I'm always confident'

About making weight? REALLY? Wow.

Killstarz comment sums it up perfectly.
Wait, let me get this straight. Both didn't make weight...haha! Anthony man...smh...lolz!
---
Marcus Aurelius: Tell me again, Maximus, why are we here?
Maximus: For the glory of the
Empire, sire.
Baked, not fried... the healthy choice.
Join Date: Oct 2009
Location: UK... Where the sun never shines.
Posts: 11,557
I'd dare to say that Jonson knew he wasn't going to make weight before the weighin so Branch probably stopped cutting as well.
Bantamweight
Join Date: Jul 2010
Posts: 769
wow this guy shouldnt be fighting... Maybe in his own fatty devision :P

ITs obvious BRanch stopped cutting weight, i mean why bother cutting when you face someone who will come overweight 10 pounds over the limit anyway.
Featherweight
Join Date: Apr 2012
Posts: 1,444
Yeah, the way I understand it is that they signed the Catchweight contract and then branch weighed in at 189. Which would be almost 6 lbs under the agreed upon weight. He would've had no trouble making 185.
They had the owner of Titan on Inside MMA on Monday and he said said that Johnson would definitely make weight.
---
Forum GP - Season XI - Champion
Join Date: Jun 2009
Posts: 20,898
I just don't understand why he insists on trying to make anything lower than 205...
Hell, the guy should just go heavyweight. No more of this missing cupcakes.. or weight.
---
If a law is unjust, a man is not only right to disobey it, he is obligated to do so. ~ Thomas Jefferson
Sig by D.P.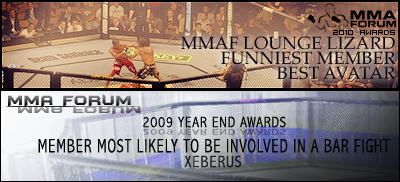 Rumble truely is a tool. Honestly i think he'd be a force at 205. Maybe not a top contender but certainly could be a top 10 guy. he was explosive at 170lbs so imagine what he'd be like without cutting 40lbs in 2 weeks before his fight!

He must have had some bad advice/made his own terrible career choices in the past.
---
Currently Active Users Viewing This Thread: 1

(0 members and 1 guests)
Posting Rules

You may post new threads

You may post replies

You may not post attachments

You may not edit your posts

---

HTML code is Off

---