Sad to see him go, one of the greatest - a true legend.
---
"Let them see that their words can cut you, and you'll never be free of the mockery. If they want to give you a name, take it, make it your own. Then they can't hurt you with it anymore." - Tyrion Lannister
...It was bound to happen soon. Rizzo isn't nothing what he was but that was a classic Fedor beatdown. He went out with a nice KO. He gave the MMA world some memorable fights we can look back on and still cheer. Fedor has a young body with a lotta miles on it. I often wonder about Rogan saying" Werdum shattered the myth surrounding Fedor". I think losing back to back played a role as well. Anywho, it's too bad Emelianenko never set foot into the Octagon. Whatever Fedor decides, he's earned it and them some. A historic run to the Pride HW belt. His fights with Big Nog were classic.
He defended that WAMMA belt twice against 2 game competitors at the time. Add that to his 12 Russian Sambo gold medals, an all around respectful guy, you have a legend...

Join Date: Apr 2010
Location: Gods country
Posts: 4,524
Brock would've beaten Fedor in his first fight. Lesnar ftw
Quote:
Brock would've beaten Fedor in his first fight. Lesnar ftw
Why are you even In this thread troll go back to watching wwe
Goodbye Fedor, we will miss you!
---
mad props: Toxic
One of if not the greatest of all time.
---
If a law is unjust, a man is not only right to disobey it, he is obligated to do so. ~ Thomas Jefferson
Sig by D.P.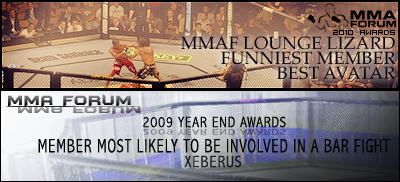 Quote:
Anyone Russian here? If so can you explain why Putin has been to many Fedor's fight and seems to be close with M1?
Putin is pretty heavy into martial arts and a keen supporter of it. He was successfully competing in Judo and Sambo when he was young and is an active practitioner for almost 50 years now. He has a 6th dan (6th degree black belt) in Judo and Kyokushin Karate and a "Master of Sports" rank (third highest Russian title) in Sambo. He even wrote a book on Judo. I don't know anything about any relations with M1. Putin probably likes Emelianenko just for being such a figurehead and ambassador for Russian martial arts all around the world.
Join Date: Jun 2009
Posts: 20,897
Farewell. Always fun to watch and definitely one of the best Heavyweights and fighters of all time. It's a shame he didn't fight in the UFC but he definitely left his mark.

Join Date: Mar 2010
Location: NC.
Posts: 9,815
I will always have fond memories of the days when I would teach newcomers that the baddest man in the world was a ringer for the Pillsbury Dough Boy.
---
Currently Active Users Viewing This Thread: 1

(0 members and 1 guests)
Posting Rules

You may post new threads

You may post replies

You may not post attachments

You may not edit your posts

---

HTML code is Off

---