vBookie Event

: Ovince St. Preux vs TJ Cook (Strikeforce: Rousey vs Kaufman)
This event is over.
Strikeforce: Ovince St. Preux vs TJ Cook
---
---
Dont really see OSP losing this one...
---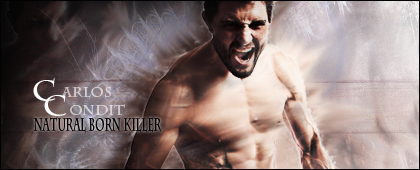 2012 FFL WINNER
CPL RECORDS
UFC 56-32-3 Strikeforce 10-4
Quote:
Round 1 - Mike Beltran in the cage again to ref. St. Preux with a nice right. He's on the outside as Cook tries to keep him there from the middle. Cook lands a smacking inside leg kick, and St. Preux follows with a high kick that is partially blocked. Cook answers with another inside leg kick, then ducks under a punch and they clinch. It doesn't take long for Beltran to ask them to work, and they soon split. Cook jabs, then throws a hook. St. Preux lands a big one and Cook goes down. It looks like he's out, but Beltran gets right in there. It looks like he'll stop the fight, but he doesn't. Cook eats a bunch of shots from St. Preux, but grabs the cage and stands back up – it sounds like Beltran warned him for grabbing, but it was hard to tell with the crowd going nuts. Cook starts firing back, and he's landing some big shots – and it looks like he's turned the tables to hvae St. Preux in trouble. The crowd loves the exchanges, and finally the two step back and take a breath. Soon after, though, St. Preux again lands a nice shot that stuns Cook. But as they hit the ground, Cook looks for a side choke. He can't get it, and St. Preux rolls on top into half-guard and looks to posture up for some ground-and-pound. Cook rolls over and gives his back for just a moment, but then is back to his feet. St. Preux lands a nice left as the round ends. It's a fun back-and-forth round, but MMAjunkie.com scores it 10-9 for St. Preux.

Round 2 - Right hand from Cook is matched with a left body kick from St. Preux, whose corner is yelling to him to keep his hands up. The two have slowed considerably, and Beltran a minute in is telling them to get moving with something, anything. So St. Preux throws a left kick that lands high on Cook's chest, just under his chin. Cook with a small leg kick, then he dances away from a left jab. The crowd wants more of what we saw in the first. Halfway through the frame, it's not happening yet. Again Beltran claps and tells them to get to work. St. Preux lands low, and Cook gets a break. They get back to work with 2:15 left, and St. Preux throws a lovely high kick that Cook ducks under. St. Preux soon after lands a takedown and Cook falls back into guard as St. Preux looks for ground-and-pound. He's got plenty of time to work and starts to throw elbows. Not much from St. Preux here, though he appears to be working for a choke. And finally, he makes a nice transition to full mount with 35 seconds left. Cook controls his neck for a second, but St. Preux soon lands some big shots. Cook will survive the round. But it's another 10-9 frame for St. Preux on the MMAjunkie.com scorecard.

Round 3 - Cook looks tired. And then bam. Just like that. It's over. Massive, massive knockout for St. Preux. He lands a perfectly placed left hand and Cook falls straight back, slamming to the canvas. Beltran is in immediately, but St. Preux knew it was over.
Ovince St. Preux def. T.J. Cook via knockout (punch) - Round 3, 0:20
http://mmajunkie.com/news/30223/stri...ve-results.mma
---
That was a barn burner especially in the first...!
---
Marcus Aurelius: Tell me again, Maximus, why are we here?
Maximus: For the glory of the
Empire, sire.
Baked, not fried... the healthy choice.
First round was amazing!
---
Credit to M.C !!
Currently Active Users Viewing This Thread: 1

(0 members and 1 guests)
Posting Rules

You may post new threads

You may post replies

You may not post attachments

You may not edit your posts

---

HTML code is Off

---