Arlovski talks ONE FC 5
---
Quote:
After an unfortunate no-contest ruling at Friday's ONE FC 5 event, Andrei Arlovski (17-9) and Tim Sylvia (31-7) may soon be preparing for a fifth meeting.
But while "The Pit Bull" said he isn't opposed to another rematch, he also isn't too concerned about ensuring he meets "The Maine-iac" again.
Instead, he believes questionable refereeing is the only thing that prevented Sylvia from suffering a knockout loss, and Arlovski considers the long-running feud with a fellow former UFC heavyweight champion behind him.
"First of all, I want to mention that I feel Tim Sylvia is no slouch, and the various punches he delivered in the first round were very strong," Arlovski wrote on his official website. "But I want to make it very clear that in the second round I felt in total control, and regardless of the current decision Tim would have lost this bout."
Arlovski and Sylvia have a longstanding rivalry that dates back to three UFC meetings in 2005 and 2006 and also includes a common girlfriend. In the build-up to their fourth meeting, Sylvia promised a knockout and even expressed his pleasure at ONE FC's modified ruleset, which allow for soccer kicks on a downed opponent.
Sylvia enjoyed a few successful striking exchanges in the opening two rounds. But Arlovski seized control of the fight in the closing moments of the second round by dropping his opponent and then blasting the downed foe with a pair of the soccer kicks Sylvia had hoped to score. Unfortunately, ONE FC's rules declare that the referee must verbally clear a fighter before he can throw such a blow, and the shots were deemed illegal.
Arlovski believes the ruling was a poor one and said the referee made multiple mistakes during the fight, including a missed illegal blow and the ignoring of some blatant fence-grabbing.
"I guess his comments about doing the soccer kick on me just got the best of me in this bout, but let me clarify – the first kick I delivered was on his shoulder," Arlovski stated. "After I punched him and he went down like a tree and attempted to start moving away from me, (it) made me think he was still conscious and aware of his surroundings.

"The second kick was in fact to his head, but it came after I noticed this questionable-overall referee running with his hand up from behind me. The reason I say questionable is simply – in my bout alone this guy missed various serious calls (such as) where Tim was grabbing and leveraging the fence to control our clinch in the first round. In the second round, the vicious and clearly intentional head butt was simply ignored by the referee completely."
Following a rest period, Sylvia was declared unfit to continue, and the bout was ruled a no contest. Some fans have since called for the two to link up for a fifth fight, but Arlovski said he doesn't believe there's really anything left to prove.
"I am content with my performance during this bout, specifically testing my so-called 'glass chin' in the first round, delivering leg kicks that ultimately broke Tim's arm and the knock down that made him go down,"
Arlovski stated.
"The kicks obviously caused the decision I received, but by the sound of my fans I hope to be back soon and keep you all excited about what's to come. My team is proud of me, and I feel like I am making the right progress in my MMA career."
But if want the fans really want is ultimate closure on this long-running series, Arlovski said he's not necessarily against another go-round.
"My beef with Tim Sylvia is now behind us both and the outcome of this bout is clear to me, but I'll let you guys decide,"
Arlovski wrote.
MMAJunkie
Excited to see where he goes from here. He ate some good shots to the chin, threw nasty leg kicks and looked pretty good in general.
hope he gets back to the line soon.
---
Fedor Emelianenko:
The one who doesn't fall, doesn't stand up
Fedor Emelianenko
|
Anderson Silva
|
Carlos Condit
|
Frankie Edgar
|
Khabib Nurmagomedov
I want to see Arlovski back in the UFC. He should be able to beat guys like Struve, Barry, Johnson, and Rothwell. Would make for some exciting matchups.
Quote:
I want to see Arlovski back in the UFC. He should be able to beat guys like Struve, Barry, Johnson, and Rothwell. Would make for some exciting matchups.
Not to mention he holds multiple wins over some current UFC fighters like Rothwell, Werdum, Nelson (only one to KO him) and Matyushenko. If you have HW's like Rob Broughton in the UFC, surely a guy like Arlovski would be a good signing.
Flyweight
Join Date: Jan 2010
Location: Cork, Ireland
Posts: 498
Still not convinced about his striking defence. He had his hands down for half the fight. I don't think he did it out of arrogance, it's more of a habit really
I really like Andrei and he proved a lot with this fight. I think it was certainly a win in his book, stupid rules aside.

I agree he is much better than most of the UFC bottom-mid tier fighters they have, I say sign him up.
---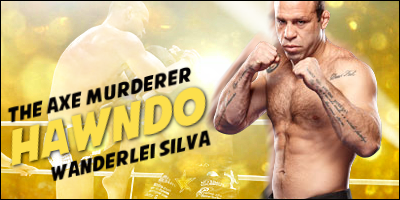 Thanks to Leakler for the sig
Currently Active Users Viewing This Thread: 1

(0 members and 1 guests)
Posting Rules

You may post new threads

You may post replies

You may not post attachments

You may not edit your posts

---

HTML code is Off

---