vBookie Event

: Shayna Baszler vs Alexis Davis (Invicta FC 4)
This event is over.
Invicta FC 4: Shayna Baszler vs Alexis Davis
---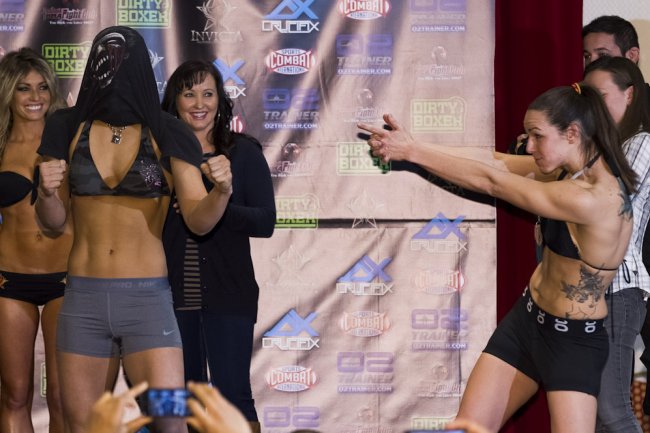 ---
Who didn't see this coming from the weigh in?
Quote:
Round one: Big right hand connects for Davis and then a left. Baszler responds and they clinch, where she scores with a knee. Another good right hand from Davis but Baszler clinches and attempts a knee but eats a right hand on the exit. Both ladies trade heavy strikes and Baszler pulls guard, dropping to her back and allowing Davis to take top position. They scramble and Baszler thinks about a heel hook but she gives up her own leg in the process, allowing Davis to attack with a leg lock, which she nearly finishes before getting saved by the bell. 10-9 Davis

Round two: They open with some punches in the pocket but Baszler secures a takedown, although Davis has a very high guard. Davis works for an omaplata and then attacks with a toe hold as Baszler tries to spin free. Baszler slips free but now Davis is attacking with a potential armbar, rolling to nearly secure a belly-down position but Baszler defends for now. Davis is trying to work towards a triangle but Baszler backs off and then drops down with a thundering right hand and she's back in Davis' guard. Left hand from Baszler and she's standing up over Davis, eating short kicks to the thigh. Baszler backs off and allows Davis to stand, eating a straight right and then a leg kick. Baszler is favoring one of her legs, potentially still smarting from that first round leg lock and Davis lands some good punches on the feet and the ground as time expires. 10-9 Davis

Round three: Baszler is trying to open up the aggression but Davis is in control here, landing a pair of good low kicks. Baszler looks slowed down considerably here, eating another leg kick and her punches don't look like they're anything Davis needs to be worried about. Another low kick from Davis and she's finding a home for her lead left hand. Baszler slips while attempting a kick and Davis unloads some knees and punches, pouncing with some heavy offense. Davis hops on Baszler's back and she sinks in a rear naked choke, choking Baszler unconscious!
http://www.mmamania.com/2013/1/5/383...ppv-female-mma
---
Currently Active Users Viewing This Thread: 1

(0 members and 1 guests)
Posting Rules

You may post new threads

You may post replies

You may not post attachments

You may not edit your posts

---

HTML code is Off

---