Halloween series: Top 10 scariest fighters in MMA
---
Quote:
It's Halloween, when kids go out trick or treating, getting scared at various houses that are decked out and possibly booby trapped. To round out the Halloween series, I decided to go over the top 10 scariest MMA fighters based on physical, facial, attitude, and intimidation factors:

~ 10 ~

Bob Sapp

To the average person, Bob Sapp can be a menacing presence based on his build. Standing at around 6'5″ and weighing in around 330 pounds of mostly muscle, Sapp is a hulk of a man to say the least. Also in the ring he has established himself as "the Beast" by implementing a bull rushing technique of overwhelming his opponents.

He also can make scary faces when he has a mind to do so. However, he makes it so far low on this list because of the fact that he also has a light friendly side to his personality seen mostly in his interviews.

~ 9 ~

Emmanuel Yarborough

A staple of the old school style versus style competitions, Emmanuel Yarborough makes it on this list because of his build and nothing else. Yarborough holds the world record for being the heaviest athlete at over 800 pounds at his heaviest. He is also tall as well at 6'8″ and wearing a size 21 shoe.

He's so heavy that his only win in MMA came by way of smothering his opponent into a submission. However, his weight also worked against him for most of his MMA career as he lost two out of his three fights against significantly smaller but more skilled opponents.

~ 8 ~

Antonio "Bigfoot" Silva

There is a reason why this man earned the name "Bigfoot." Antonio Silva may only stand around 6'4″ but at 263 pounds he is still menacing. Another thing that makes him menacing is his physical traits. He also has a huge chin as well as an intimidating face. Bigfoot describes him.

~ 7 ~

Junior dos Santos

One of the elite level fighters on this list, Junior dos Santos is very similar to Bob Sapp in terms of having two sides to his personality. He only stands 6'4″ and is a middle range heavyweight at about 240 pounds but his physical abilities partially put him on this list.

Dos Santos is pretty athletic for heavyweight and is arguably one of the best strikers in the UFC. One of the things that puts him on this list is his facial expressions when he's trying to look intimidating. He can certainly switch gears from friendly to scary depending on the situation.

~ 6 ~

Diego Sanchez

He has been alternatively known as "the Dream" and "the Nightmare" and honestly the latter is probably a better description. Diego Sanchez comes into the Octagon every time with an intensity very few bring with them.

Every time Sanchez walks out to the Octagon he comes out looking like he's about to murder someone and usually his fighting comes across that same way. There's a reason why he's earned seven fight of the night awards in the UFC. His facial features are what earns him a spot on this list and no one can deny how scary this man looks.



~ 5 ~

Paulo Cesar da "Giant" Silva

Giant Silva is probably one of the tallest men to have competed in MMA at 7'2″ and weighing at around 385 pounds. In addition Silva has the facial features that are reminiscent of Andre the Giant. However, unlike Andre the Giant, Silva has a much more intimidating face just by default.

Silva earned his stage name while competing in pro wrestling which is what he still does today and it is certainly well earned. He hasn't competed though since 2006.

~ 4 ~

Brock Lesnar

Brock Lesnar is probably the most controversial figure on this list. Lesnar makes this list because of his intimidating facial features, attitude and huge bodily muscles. His attitude was a holdover from his pro wrestling that he brought into the UFC. Then of course there are his facial features which are definitely intimidating to a high degree. To be blunt, I wouldn't want to run into this man on the street.

~ 3 ~

Cain Velasquez

Current UFC Heavyweight Champion Cain Velasquez is scary because of his skills and facial features. Velasquez is a considerably skilled heavyweight in the middle range of the division. He's consistently fought and defeated larger fighters on a regular basis including the likes of Brock Lesnar, Junior dos Santos, and Antonio Silva.

In addition he looks scary by default and can look even more intimidating if he wants. He's such a scary man that in the latest UFC Prime Time he admit he has to separate his traits as a fighter and as a husband and father.

~ 2 ~

Cristiane "Cyborg" Justino

The only woman on this list also has the distinction of being scarier then more then a few members of this list. Cristiane "Cyborg" Justino is arguably one of the most dominant women in the short history of women's MMA. She also has very freakish strength for a woman as well as a face that looks more like a man's.

Because of her looks women's MMA was in a rut until Ronda Rousey came along. Despite her scary looks, she can actually look rather attractive when a certain thing called makeup is applied.

~ 1 ~

Alexander Emelianenko

There is a reason why the brother of the legendary "Last Emperor" is called the "Grim Reaper." Alexander Emelianenko may not be as dominant as his brother but he is still a scary man to see, let alone fight.

Alexander could be considered a larger version of his brother with longer hair and tattoos all over himself. Honestly he's a more scary version of his brother. Be careful that he doesn't take you to hell.

What did you think of this year's Halloween series of top 10s? Leave a comment!
http://mma-freak.com/halloween-serie...-fighters-mma/
---
The Emoticon Guy
Who's freak show? Also I left Wanderlei out cause since his scar tissue surgery he doesn't look as intimidating.
---
The Emoticon Guy


Join Date: Jan 2013
Location: Canada's East Coast
Posts: 1,487
Colin 'Freakshow' Fletcher.

The same guy whose poster you commented on saying this is getting weirder and weirder.
---
The poster formerly known as Cowgirl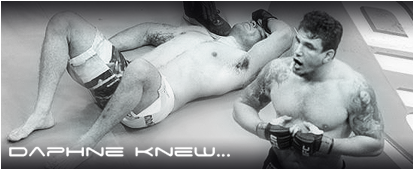 Thanks to Killz for the great sig!

Seriously, I'd have Brock at the top of that list.

Not only does his face look scary, but his body is as intimidating as it gets. When he flexes his trapezius it looks like you'll need a shotgun to knock him out; which may be true since brock has took some hard punches but has never been KO'd.

I remember seeing him in MMA for the first time against Mir, I thought 'Man, Mir has got to be shitting bricks right now'. My thoughts were echo'd by Mir who later admittted that he was 'very impressed' by Brocks physique.

You know that when a guy is multi-millionaire but still chooses to live a basic life, so he doesn't lose his edge, is a force to be reckoned with. I hate hunting for no reason; but hunting and killing your food is to be respected - as is Brock.
---
If I did the list over again I would probably put Brock higher and put Wanderlei on the list but I still don't think Wanderlei is that intimidating anymore. I'm sorry the scar tissue surgery basically gave him plastic surgery. While I do think he's still a dangerous dude I don't think he's as intimidating as he used to be.
---
The Emoticon Guy
Bantamweight
Join Date: Nov 2009
Posts: 952
I think overeem is still scary
Quote:
I think overeem is still scary
When i think of scary, guys like Overeem don't pop up on my mind. Overeem looks like a professional athlete, guys like that don't seem scary imo.
This guy however, i'd shit my pants so hard. You just know he'd beat you up and would enjoy every second of it.
Currently Active Users Viewing This Thread: 1

(0 members and 1 guests)
Posting Rules

You may post new threads

You may post replies

You may not post attachments

You may not edit your posts

---

HTML code is Off

---