View Poll Results

: Who Would Win.. How?

Tim Sylvia (KO)
12
66.67%
Tim Sylvia (Submission)
1
5.56%
Bob Sapp (KO
5
27.78%
Bob Sapp (Submission)
0
0%
Voters: 18. You may not vote on this poll
Bob Sapp vs Tim Sylvia (UFCRules)
---
Bob Sapp vs Tim Sylvia... i think it would be cool to see in the Octagon.. just size wise
Amatuer
Join Date: Jul 2006
Posts: 114
you should put a choice of decision in there as well, not just submissions and KO's.
when has bob sapp ever been a good fighter? come on man, the only reason he is still even a name in mma/k-1 is coz of his size and strenght. if you were to put sapps skill in a 205ibs fighter he would get knocked out all the time.. tim silvia tko strikes 1st round without even starting to swet
This is SPARTA!
Join Date: Apr 2006
Location: Houston, Texas
Posts: 5,495
I think Sapp would win by KO due to strikes. Sapp would most likely bullrush Sylvia to throw him off his game and then KO is ass.
---

MMA Fanatic
Join Date: Aug 2006
Location: G-TOWN TX
Posts: 59
Quote:
Originally Posted by Organik
Bob Sapp vs Tim Sylvia... i think it would be cool to see in the Octagon.. just size wise
that would be a bad ass fight but i think tim has it
How about iron mike vs bob sapp that would be a good fight and tyson is with pride now so i gots my money on tyson if he could ko pepole in boxing with 12oz gloves think about what he could do with 4oz gloves nobody could stand with him
MMA Fanatic
Join Date: Aug 2006
Location: G-TOWN TX
Posts: 59
Iron Mike With Pride
---
what do yall think about mike in Pride FC
is he going to be badass
or is he going to suckass
MMA Fanatic
Join Date: May 2006
Posts: 81
I vote Sapp. Tim wouldn't know what to heck to do with him. Sapp so huge. Though It's easy to see a nice left by tim KOing sapp
Megaweight

Join Date: Apr 2006
Location: Everett, MA
Posts: 5,961
sapp struggles with subs experts, tim would stand there and tro to ko sapp, bad move..sapp would ko him
---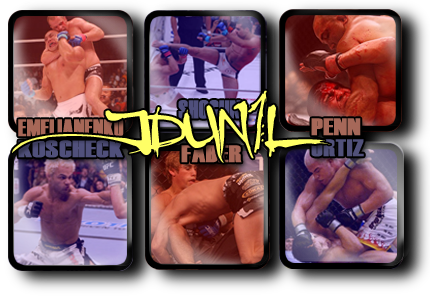 Mancrushes
1.Shogun
2.BJ
3.Fedor
4.Kos
5.GSP
Im in Porno's
still he has only won his fights coz size and strenght, talant had nothing to do with it.. bringing up the Yoshihisa fight huh, did you see that fight with Kerr? Kerr just about knocked himself out in that fight so.. comparing Bob Sapp and Mark Kerr is not a good idea if you are trying to make Sapp look good in MMA come on. ill throw in something xtra for ya
Fight Finder - Bob "The Beast" Sapp's Mixed Martial Arts Statistics
, take a look at his wins and see what great fighters he has wins over
---
Last edited by Evil; 08-29-2006 at

05:36 PM

.
Bob Sapp gets hated on to much... for someone that big .. bob sapp does actually know what hes doing..

haha i think Bob Sapp would bullrush tim sylvia into the cage and just eat him from there on
Currently Active Users Viewing This Thread: 1

(0 members and 1 guests)
Posting Rules

You may post new threads

You may post replies

You may not post attachments

You may not edit your posts

---

HTML code is Off

---