View Poll Results

: Who would win?

Jeff Monson
4
30.77%
Kevin Randleman
9
69.23%
Voters: 13. You may not vote on this poll
Kevin Randleman v Jeff Monson
---
The score is PRIDE: 1, UFC: 1. Today's bout, the battle of the heavyweight powerhouses. From PRIDE: Kevin "The Monster" Randleman and from UFC: Jeff "The Snowman" Monson

Kevin "the Monster" Randleman (16-11-0)
Vitals:5'10" and 205lbs (93kg)
Style: Wrestling
Titles: None
Fact: Holds a PRIDE record of 5-6-0
Streak: Won his last 1 fight (1 win in his last 5 fights)

Jeff "the Snowman" Monson (22-5-0)
Vitals: 5'9" and 215lbs (98kg)
Style: Wrestling
Titles: None
Fact: Has a UFC record of 3-2-0
Streak: Won his last 16 fights (17 wins in his last 20 fights)
---
Sig by Toxic

Barnett - Toquinho -Werdum - "Nurmie"
Z. Gurgel - Morango - Rocha - Tiequan
This is SPARTA!
Join Date: Apr 2006
Location: Houston, Texas
Posts: 5,495
Randleman is a better wrestler than Monson. He is called the Monster for a reason, I think he would beat Monson. Sorry Snowman.
---

i've earned my stripes

Join Date: Jul 2006
Posts: 5,989
Vote goes to Randleman. Just because I like him better.
Sorry Monson.
---
i'm a monster
i'm a maven
i know this world is changin'
never gave in
never gave up
i'm the only thing i'm afraid of
my boy kevin randleman has this one
---
"I only want to be known as the best ever, is that too much to ask?" - BJ Penn
Alot of people are giving this fight to Randleman, and that makes alot of sense. I guess that one of the reasons why this makes sense is that Randleman has had some way tougher competition, even though he's lost.

Losing to Fedor and Crocop the way that Randleman did is way more impressive than smashing Brandon Lee Hinkle.

The real reason I gave this fight to Monson is because he's hot, and I don't think he'll slow down until he crushes Tim Sylvia.
---
Sig by Toxic

Barnett - Toquinho -Werdum - "Nurmie"
Z. Gurgel - Morango - Rocha - Tiequan
Outta My Head
Join Date: May 2006
Location: Paramount, CA
Posts: 1,220
I'm going with Monson on this one. Randleman has a great amount of physical talent, but he's been submitted before. I think once it goes to the ground (and with these two it will), Monson will catch Randleman via armbar or choke.
---
It doesn't matter if you agree or disagree
... As long as I don't bore you and I spark a moment of thought,
my goal is achieved
.
Queng leon queng tigre ecu tacacut, queca pa? - Pampangan Mandarigma Motto

Megaweight

Join Date: Apr 2006
Location: Everett, MA
Posts: 5,961
monson has never beaten a top fighter in his career..and randleman has faught the elite of mma..randleman would win a unanimous decision..monson is so overrated its disgusting
---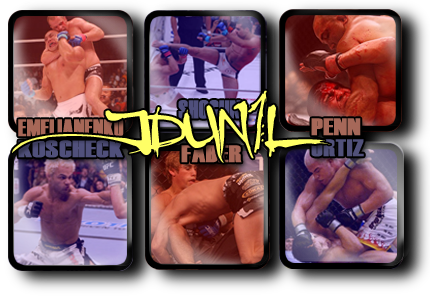 Mancrushes
1.Shogun
2.BJ
3.Fedor
4.Kos
5.GSP
Im in Porno's
Since his loss to Forrest Griffin, Monson has crushed every single person he's stepped in the ring with. He's a snowball, and he just keeps getting better.

Randleman has had a few tough fights lately, but he's still a savage and slamming Fedor like he did, that shows some power.
---
Sig by Toxic

Barnett - Toquinho -Werdum - "Nurmie"
Z. Gurgel - Morango - Rocha - Tiequan
The score is PRIDE:2 UFC:1.
---
Sig by Toxic

Barnett - Toquinho -Werdum - "Nurmie"
Z. Gurgel - Morango - Rocha - Tiequan
Currently Active Users Viewing This Thread: 1

(0 members and 1 guests)
Posting Rules

You may post new threads

You may post replies

You may not post attachments

You may not edit your posts

---

HTML code is Off

---