View Poll Results

: Who would win?

Wanderlei Silva
17
62.96%
Chuck Liddell
10
37.04%
Voters: 27. You may not vote on this poll
Wanderlei Silva v Chuck Liddell
---
This is a fight that alot of people have been talking about on this forum. With the score tied at 2 I thought I'd throw this one out there.

Wanderlei "The Axemurderer" Silva (31-5-1)
Vitals: 5'11" 199lbs (90kg)
Style: Muay Thai
Titles: PRIDE Lightheavyweight Champion
Fact: After Rampage Jackson defeated Chuck Liddell at PRIDE: Final Conflict, Wanderlei defeated Rampage in just 6:28 of the first round.
Streak: 2 wins (won 4 of his last 5 fights)

Chuck "The Iceman" Liddell (19-3-0)
Vitals: 6'2" 204lbs (93kg)
Style: Hawaiian Kenpo
Titles: UFC Lightheavyweight Champion
Fact: Chuck Liddell is the only person to KO Randy Couture, he did it twice.
Streak: 6 wins (won 8 of his last 10 fights)
---
Sig by Toxic

Barnett - Toquinho -Werdum - "Nurmie"
Z. Gurgel - Morango - Rocha - Tiequan
I voted for Wanderlei Silva, because he's a more controlled, stylized fighter with knock-out power.

I should also make one correction. I said that Chuck Liddell was the first and only person to (T)KO Randy Couture, because that's how the UFC pushes it. That's not really true.

At UFC 36 Josh Barnett defeated Randy Couture to become the UFC Heavyweight champion, he won by TKO at 4:36 of the 2nd round. The UFC doesn't count that fight becase Barnett's title was later stripped due to a positive steroid test.
---
Sig by Toxic

Barnett - Toquinho -Werdum - "Nurmie"
Z. Gurgel - Morango - Rocha - Tiequan
i agree again
---
i think chuck is over rated....if he beats Wanderlei then ill give him his props and will be his biggest fan ...lol
I've trained with Chuck and I don't think it's that he's over-rated. I think it's huge that he can KO pretty much anybody with one punch.

I do think that Wandy is under-rated in the states and he needs to start getting his props.
---
Sig by Toxic

Barnett - Toquinho -Werdum - "Nurmie"
Z. Gurgel - Morango - Rocha - Tiequan
Dont care witch of these fighters win as they are both great in my book, ill go ahead and give chuck the edge coz of his exellent distance punching, wandelei likes to clinch and thats just about impossible to do with Chuck.

If its in a cage as planned ill give it to Chuck. If its in a ring ill give it to Wandy.

I wont vote coz of the last line i wrote
I think wandy will rock chuck then because wandy is a psycho will stop chuck on the ground and get dq. he will do the patented flying wanderlie stomp.
The Cat Smasher
Join Date: Jun 2006
Location: Toronto, Ontario, Canada
Posts: 583
Chuck Liddell would win this fight in my opinion. If Liddell just comes at Wanderlei like Vitor Belfort did, then its over. Wanderlei didn't know what hit him when Vitor Belfort beat him.
---

My Favourite Fighters
Ken Shamrock
Vitor Belfort
Fedor Emelianenko
Georges St. Pierre
Wanderlei Silva
Rich Franklin
Mark Kerr
Chuck Liddell
Robbie Lawler
B.J. Penn
Mirko "Cro Cop" Filipovic
Mauricio "Shogun" Rua
Chris Leben
Nick Diaz
did any of you see Wanderlei challenge Chuck
---
chuck accepted so will there be a fight..or are they gonna act like it didnt happen ??
oh man, id bet the house on Wand forsur !
Wanderlei pushes such a relentless pace it is insane , he just keeps coming at you... i seee chuck gasssing and gettting KO'd brutally in this one, if you ppl thought the beating Rampage handed to Chuck was bad you just wait tilll Wandy gets though with him
---
"I only want to be known as the best ever, is that too much to ask?" - BJ Penn
Megaweight

Join Date: Apr 2006
Location: Everett, MA
Posts: 5,961
chuck will use his reach, and counter punching skills to his advantage..eventually he will catch wandy, and chuck will finish him off...2nd round tko (strikes)
---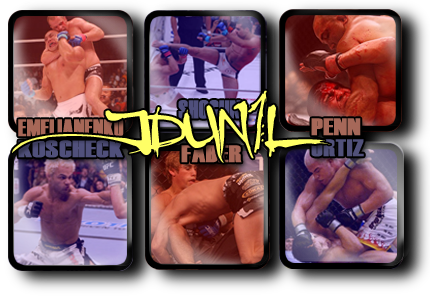 Mancrushes
1.Shogun
2.BJ
3.Fedor
4.Kos
5.GSP
Im in Porno's
Currently Active Users Viewing This Thread: 1

(0 members and 1 guests)
Posting Rules

You may post new threads

You may post replies

You may not post attachments

You may not edit your posts

---

HTML code is Off

---