Victim of its own success?
---
Is the UFC now becoming a victim of its own success?, I think it could go that way, i mean look somebody can get a title shot after winning a reality show!, I respect those fighters but surely isnt it about time that the UFC set a standard to be met before a title shot? e.g x amount of wins rather than a popularity contest. What are your feelings/opinions?
---
TEAM GROTTY 2013
Stefan Struve
Donald Cerrone
Glover Texiera
Cub Swanson
Kim Dong - Hyun.
Megaweight

Join Date: Apr 2006
Location: Everett, MA
Posts: 5,961
the ufc will get what they deserve when franklin and either hughes or bj tool on the winners in the first round
---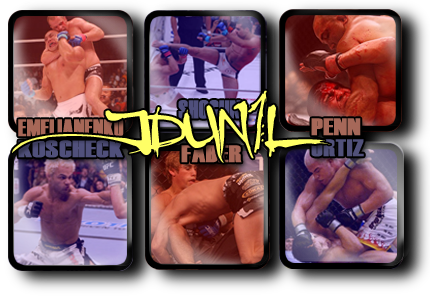 Mancrushes
1.Shogun
2.BJ
3.Fedor
4.Kos
5.GSP
Im in Porno's
Beenofalus FTW
Join Date: Jul 2006
Location: Omaha, NE
Posts: 628
I think it'll be ok. The guys that won those shows, for the most part (the first season are the ones geting the breaks and that's been awhile now) are beating people. Griffin has had good fights and Sanchez hasn't lost, what more can they do? It's not like Rashad or the hawaiian kid from season 3 have title shots.
I think the UFC is running out of ideas on who should get a title shot! Matt Hughes has nearly beaten every elite in his division! The same with Rich Franklin. Because these guys aren't losing, It was only a matter of time before the UFC started looking at the bottom of the barrell to fight Rich and Matt! TUF 4 is just an easy way of deciding which underdog gets a title shot!
I just think its weird when someone has 3 fights or around that figure and get a title shot. That is one are where i think boxing has the better setup when its not abused.
---
TEAM GROTTY 2013
Stefan Struve
Donald Cerrone
Glover Texiera
Cub Swanson
Kim Dong - Hyun.
You should have to have a good foundation and record as a UFC fighter, and after that they should have three to five fights with extremely good fighters that have had their title shot and lost, get through those fighters and you get your shot loose and start all over again!
---
Romans 14:11-12... 11It is written: " 'As surely as I live, says the Lord ' every knee will bow before me; every tongue will confess to God.' " 12So then, each of us will give an account of himself to God. May God Bless us all.www.mmaworld.org
Currently Active Users Viewing This Thread: 1

(0 members and 1 guests)
Posting Rules

You may post new threads

You may post replies

You may not post attachments

You may not edit your posts

---

HTML code is Off

---