View Poll Results

: Who would win?

Josh Barnett
11
84.62%
Jeff Monson
2
15.38%
Voters: 13. You may not vote on this poll
Megaweight

Join Date: Apr 2006
Location: Everett, MA
Posts: 5,961
Quote:
Originally Posted by IronMan
It's true he hasn't beaten anyone impressive, but his wins over no names have been impressive. Of the 8 of his last 10 fights I've seen, only his decision with Devin Cole and Marcio Cruz weren't complete dominations. I don't think Sylvia has ever fought a wrestler that's on the level of Jeff Monson.

The two times in Sylvia's carreer that he's ended up on the mat were against Andrei Arlovski and Frank Mir, both times he was submitted in the first minute of the fight. He lost to Andrei in 47 seconds and Mir in 50, those are the only two guys who have really gotten him on the ground. Granted, they're both good submission fighters, but Monson's takedowns and submissions are at least as good as Mir's.

It's not so much that Monson is a great fighter, it's more that Sylvia has no real ground game.
i think ricco rodriguez has better ground skills than monson and syvia dominated that fight
---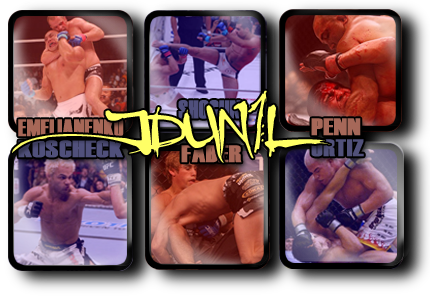 Mancrushes
1.Shogun
2.BJ
3.Fedor
4.Kos
5.GSP
Im in Porno's
Thats because Sylvia knocked Ricco out in the stand up, the fight didn't enter the ground once. But Ricco was KTFO plain and simple, over rated fatty.

When Sylvia fights submission specialists he gets owned, Frank Mir, heck Arlovski barely knows submissions and won against him.

But are main topic, Monson .vs. Barnett, Barnett would definitely win. Twice as stronger, better ground skills (Monsons main game), and better submissions and ground and pound.
Barnett's performance against Nog proves, at least to me, that he's the second best grappler in PRIDE, behind Fedor, of course.
---
Sig by Toxic

Barnett - Toquinho -Werdum - "Nurmie"
Z. Gurgel - Morango - Rocha - Tiequan
Definitely Barnett. Monson isn't all that great IMO. Barnett is a better striker, a bigger guy and has a longer reach. I say Barnett by TKO or submission 1st round or early 2nd.
Monson isnt that great?? omg, do you know who Monson is? Hes a pro boxer with a good record, Hes an Abu Dabi Heavyweight champ, Hes done really well and has come a long way in his MMA career. The only problem he has beeing a Heavyweight is that hes just to short to matchup good againt some of the top fighters. Now Cruz is not a good MMA fighter, but he had a great gameplan in their fight, stickin the jab in his face every time Monson tried to do anything which made it a boring fight but effective for Cruz to stay alive on his feet. The only losses he has is against guys who basicly did the same thing.
Monson is pretty good but over rated in a way, I mean hes lost to Chuck Liddell when Liddell wasn't that great and he also lost to Griffin when he wasn't even in the Ultimate Fighter yet. However, hes improve a lot since then, like Evil says Abu Dhabi champ, and he defeated Marcio Cruz who destroyed Frank Mir, but it wasn't an easy victory over Cruz...
He lost to Liddell in the midst of Liddell's comback. It's true that Chuck didn't KO anyone during those three fights, but he's still a great fighter.
---
Sig by Toxic

Barnett - Toquinho -Werdum - "Nurmie"
Z. Gurgel - Morango - Rocha - Tiequan
And this makes it PRIDE:7, UFC:2
---
Sig by Toxic

Barnett - Toquinho -Werdum - "Nurmie"
Z. Gurgel - Morango - Rocha - Tiequan
Currently Active Users Viewing This Thread: 1

(0 members and 1 guests)
Posting Rules

You may post new threads

You may post replies

You may not post attachments

You may not edit your posts

---

HTML code is Off

---