View Poll Results

: Tito vs Wandy

Tito Ortiz
8
47.06%
Wanderlei Silva
9
52.94%
Voters: 17. You may not vote on this poll
Megaweight

Join Date: Apr 2006
Location: Everett, MA
Posts: 5,961
Tito Vs Wanderlei Ii
---
i would love to see this fight...im assuming this fight would take place in the ocotgon..therefore tito wins again because wand cant stop titos takedowns and tito gets the unanimous decision
---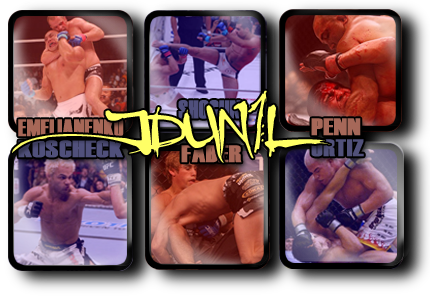 Mancrushes
1.Shogun
2.BJ
3.Fedor
4.Kos
5.GSP
Im in Porno's
Well Wandy gets a shot at Liddell next, and if he beats em (NOT) then he can get a re-match with Tito.
Tito isnt the same fighter as before, and lets be honest, he was blanketing Wandy for a good bit, not to take anything away from Tito though, well deserved win.

Wandy has vastly improved since the last fight and would probably knock Tito the **** out.
I dont know about this fight, Wanderlei likes to come in with his heymakers left and right and i think thats perfect for Tito, he starts throwing, dip shoot in double leg and down, dont see Wandy Getting up and for sure not submitting Tito so Tito by boring decision
ah my 2 fav fighters
I believe Tito would beat him again in the UFC (Decision) , but Wanderlei would split his melon open with vicious soccer kicks over in Pride.
---
"I only want to be known as the best ever, is that too much to ask?" - BJ Penn
I think Silva would win. The only way Tito could win would be with his takedowns, he can't stand up with Silva..if it goes to the ground Tito would have his best chances, but if it stays standing up, he has no chance.
Tito is to smart for that, he's not gonna fight Wanderlei's fight, wont go toe to toe with him, he will wait for his opportunity to shoot and take em down, GNP city....
Bantamweight
Join Date: Jul 2006
Location: Boston
Posts: 612
im going with wandy.

It think people are forgetting that they are both MUCH better fighters then before, yeah tito has improved but so has wandy, after that fight he went to pride and dominated and if he retunrs to fight tito he will be a much differant wandy.
---
Steve-d
www.steved-mma.com
// My Training Blog!
As much as I dislike Tito, I would have to say Tito wins by tko referee stoppage in 3rd round. Tito's excellent ground and pound and supreme cardio fitness would play a big part. If Wandy wants this to happen, he needs to TRAIN TRAIN TRAIN!
Currently Active Users Viewing This Thread: 1

(0 members and 1 guests)
Posting Rules

You may post new threads

You may post replies

You may not post attachments

You may not edit your posts

---

HTML code is Off

---