Megaweight

Join Date: Apr 2006
Location: Everett, MA
Posts: 5,961
I Lost
---
whats up fellas..i gotta report sum bad news to ya..i faught in this real small mma show tonite, and i got beat..
I faught at 205, which i have no business fighting at cuz im only 5'10, but im still a little blown up from my football days so thats where im at for now but i hope to fight at 170 or 185 in the future..i took this fight on 36 hours notice, one of the guys i train with broke his ankle so i took his place...i faught bjj black belt named alessandro de sousa.. i looked him up on sherdog, but i couldnt find ne thingon him..anyway the fight went pretty well..the first round i won handily, with great takedown defense and and solid strikes..his nose was def broken..late 2nd round i was gassed..i was easily winning the fight with my standup, but when i got tired i got sloppy and went for the ko, and i got caught with a beautiful jab that buckled my knees , i was hurt so i went for the takedown..BAD MOVE..I HAVE 2-3 MONTH OF BJJ TRAINING, HES A FREAKIN BLACK BELT...i got the takedown but i i landed in a guillotine in his guard and got choked out..sucks
---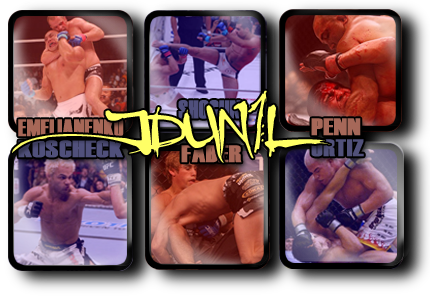 Mancrushes
1.Shogun
2.BJ
3.Fedor
4.Kos
5.GSP
Im in Porno's
i know your pain. ive never lost to a choke but i have been KO'd. GJ for taking the fight. I would have never fought up in weight with out atleast 2 weeks notice. dont know if it matters to u but if i put on a good show i feel some what good
---
people say either the world will end at 2012 or the aliens will finnally come back to us.....


i hope not cuz im writing a sci fi novel
and it sounds like u did make it entertening
---
people say either the world will end at 2012 or the aliens will finnally come back to us.....


i hope not cuz im writing a sci fi novel
Bantamweight
Join Date: Aug 2006
Location: Sacramento
Posts: 540
Your only unbeatable if you fight the wrong people. every loss makes you tougher. Dont give up.
---
Forum Bets: 0-0(Still undefeated)
Death Matches: 12-4-0
I eat babies
Join Date: Jul 2006
Location: Troy, Ohio
Posts: 7,647
Nice try jdun hang in there you'll figure that guilotine problem out soon enough. You need to have someone tape your fights and put them on YouTube for us all to see. Or do you already do that? Win or lose I'd still like to see ya fight. Better luck next time and don't let it get to you, you're not the best...yet...

By the way have you tried taping yourself in training going for your doubles and singles? If not, you might be able to figure out what you're doing wrong easier by doing that. Have your partner stand right in front of you in his stance with the camera facing your sides and just do you double or single the way you normally would but slow it down a little and do it several times trying to do it the way you feel is natural and have your partner do a basic guilotine maneuver on you or maybe a couple different ways each time if you're leaving a HUGE opening, and watch yourself on tape afterwards and change something up and try again. If anyone can figure out what you're doing wrong, it's you. But if you've already tried doing this then nevermind haha.
---
---
Last edited by WouldLuv2FightU; 09-18-2006 at

07:11 AM

.
I eat babies
Join Date: Jul 2006
Location: Troy, Ohio
Posts: 7,647
Damn jdun don't you feel special? Of all the threads on this forum this a-hole decides to pick your serious thread to post their incoherent drunken stupor. WTF is this di.ckhead babbling about anyway?
Flyweight
Join Date: Jun 2006
Posts: 222
Keep your chin up dude, it takes serious gonads to take a fight on that short a notice. It sounds like you know what went wrong, just keep working on your game and the same thing will not happen again.
---
"and then I look up and they still be wearin the same sh*&t they be wearin"
Charlie Murphy from the Prince episode of "Chappelle Show
Users Awaiting Email Confirmation
Join Date: Jul 2006
Location: Ohio
Posts: 808
Good Job man! I am not a fighter, but I know it is tough to take a fight with that short of notice. You sound like you did quite well, and may have ended with better results if you didn't gas. Congrats!
Megaweight

Join Date: Apr 2006
Location: Everett, MA
Posts: 5,961
im gonna see if I get can get a video of the fight, but im not sure if the 30 people in attendance had a camera
..nah but serious, thanks for the support guys..im still working on my guilloitine defense, but i was really gassed and the straight jab caught me right on the chin...i had no business going for the takedown, but it was just a reflex..i was in danger of being ko'd and i had to do my best to recover..i dunno if this was a sanctioned event or even if it was legal, so im unsure if its gonna go on my record..imagine if my name goes on the Sherdog fight finder..id sh*t my pants
---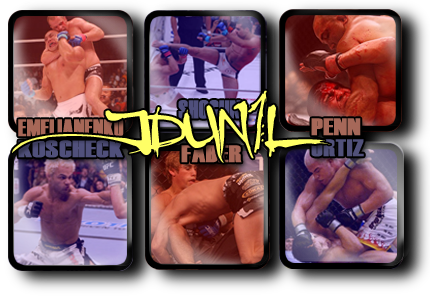 Mancrushes
1.Shogun
2.BJ
3.Fedor
4.Kos
5.GSP
Im in Porno's
Currently Active Users Viewing This Thread: 1

(0 members and 1 guests)
Posting Rules

You may post new threads

You may post replies

You may not post attachments

You may not edit your posts

---

HTML code is Off

---