Classics
---
If you took a best of between the fighters that fought in the UFCS 1-4, and put them in a non weight class tournament, but you only fought 1 fight a day (because I dont think any of them could fight more than a once a day now) who would you pick to take to the finals, who would win, and how? I put Royce in the finals, but I dont know who he'd be against, maybe Shamrock. And I think Shamrock would take a decision victory against Royce. Your thoughts?
Megaweight

Join Date: Apr 2006
Location: Everett, MA
Posts: 5,961
i would probably take shamrock over Kimo in the finals..I think kimo would be too much for royce now adays..and kimo has no hair for royce to pull
---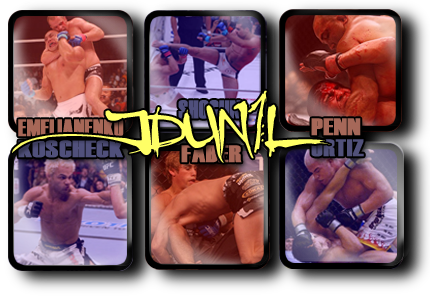 Mancrushes
1.Shogun
2.BJ
3.Fedor
4.Kos
5.GSP
Im in Porno's
It would be between Dan Severn and Ken Shamrock. The others we havent seen in a while, and Kimo is just makes me laugh out loud.

Royce is a tiny little thing. Back then, the only advantage he has was that he knew submissions. Sorry little Royce, but we know your technique, since you bragged about it so goddamned much.
ya Royce is too errogant to learn anything new. Royce would be gone first
---
people say either the world will end at 2012 or the aliens will finnally come back to us.....


i hope not cuz im writing a sci fi novel
I think that this is exactly what the community needs.
We dont need to see oldies getting murdered, thats not fun to watch, nor is it respectful to them. They are fighters, they dont understand how to say no.
So lets put them in a cage with their former opponents, and see who changed. It would draw a lot of money, and would make for an entertaining show due to the compatants actually being on the same level.
Quote:
Originally Posted by MMA freak
I think Don Frye would win nowdays too or Royce Gracie/Ken Shamrock. Dan Severn, Pat Smith, Dave Beneteau, Kimo Leopoldo, Oleg Taktarov, Tank Abbott, Marco Ruas, they are all not what they used to be at the UFC 1-10 era.
Don Frye Vs. Ken Shamrock cuz the fight in Pride was great, Winner to face Royce, Royce gets a bye, hahaha, Royce winner by armbar cuz those guys ain't giving Royce their back anymore...
Kimo would be unable to fight due to continuely testing positive for steroids
---
Favorite Fighters:
MayheM
Rampage
Diaz Bros.
Iceman
CroCop
Aleks E.
Prodigy
Legends Rickson Gracie & Bas Rutten

I DO NOT BAD REP, I ONLY GOOD REP
Currently Active Users Viewing This Thread: 1

(0 members and 1 guests)
Posting Rules

You may post new threads

You may post replies

You may not post attachments

You may not edit your posts

---

HTML code is Off

---