Bisping vs Griffin
---
I know we havent seen a lot of Bisping but I think this would be a good matchup....your thoughts.

P.S. Sorry I dont have a poll up Im not quite sure how to do that yet.....
Free Thinker
Join Date: Sep 2006
Location: In your closet!
Posts: 5,673
Close fight could endup going eather way
. but Bisping has not gon up agains the caliber fighters that griffin has like tito and sinsonic and he dose not seem as comfortable in the ring as griffin ( ofcorse who is). Unless he makes a big mistake griffin by dissision.
that would be a very entertaining fight seeing as how both have excellent strikes...but i have a feeling that griffin would be in a lot of trouble if it went to the ground...
The Cat Smasher
Join Date: Jun 2006
Location: Toronto, Ontario, Canada
Posts: 583
Michael Bisping would get a TKO in the 2nd round to defeat Forrest Griffin in my opinion. It'd be a close match up and if it went to the judges I could see it being a split decision with the win going to Bisping.
---

My Favourite Fighters
Ken Shamrock
Vitor Belfort
Fedor Emelianenko
Georges St. Pierre
Wanderlei Silva
Rich Franklin
Mark Kerr
Chuck Liddell
Robbie Lawler
B.J. Penn
Mirko "Cro Cop" Filipovic
Mauricio "Shogun" Rua
Chris Leben
Nick Diaz
Megaweight

Join Date: Apr 2006
Location: Everett, MA
Posts: 5,961
wow this is a very even match up, but I gotta see Bisping fight a quality opponent b4 i say he can beat Forrest but he has all the tools no doubt
---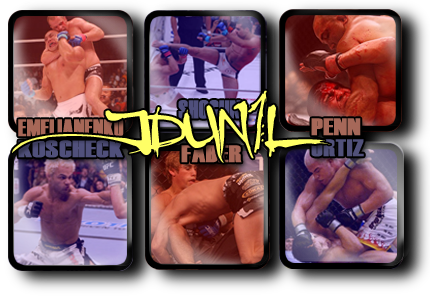 Mancrushes
1.Shogun
2.BJ
3.Fedor
4.Kos
5.GSP
Im in Porno's
have brother. His name is Bilo. He once have a demon that live in his head so we open his head and place a dry fish inside to eat the demon, but the demon become angry and make Bilo a retard. He is sex crazy! All day long in his cage he look on porno!
Forrest right now. Maybe Bisping in a few years.
Bisping needs a few wins and probably in 5 monthes after two wins can fight Forrest Griffin in a co-main event or event bout. I think Bisping will win once he has more experience like asskicker said.
I just cant bet against Forrest not after going 3 rounds with Tito. I need to see more of Bisping so Ill go with Forrest.
Currently Active Users Viewing This Thread: 1

(0 members and 1 guests)
Posting Rules

You may post new threads

You may post replies

You may not post attachments

You may not edit your posts

---

HTML code is Off

---