Quote:
I meant Fedor's last fight seemed like a circus style event...Not that it wasn't entertaining, just it would be better if he fought the best.
Am I happy he's fighting someone supposedly in the Top 10 heavyweights? Yes.
But that's bs, he should be fighting #2...then #3.
This is where that MMA ranking system (WAMMA) would be nice.
Maybe it was once I saw that episode of Blind Date with Tim Sylvia that realllly turned me off him. Can't blame him trying to get some...at least that clears my thoughts on him being ... Just kidding
Oh yes the wonders of that potential crew and their thoughts sounds great
, Bill Goldberg having a say is reason enough to believe the WAMMA rankings would be shit.
Tim is #3 or or #4 in the rankings for HW's easily. I think you should take a second look at Fedor's past 3 years and look at the opponents he's faced and be great full he's fighting someone like Sylvia, weather you like him or not.
---

This Time ... Break It!
FFL Season 3: 11th Place
Quinton Jackson vs. TBA
Gesias Calvancante vs. TBA
Fabricio Werdum vs. TBA
Thales Leites vs. Anderson Silva
attention whore
Join Date: Oct 2006
Location: Branson, Missouri
Posts: 14,445
Fedor is actually fighting a ranked HW. We should all be happy.
---
I don't see how anyone could be unhappy about this. Two great HW's fighting... what's not to like?
---
Quote:
I don't see how anyone could be unhappy about this. Two great HW's fighting... what's not to like?
No kidding... I guess they would rather see him fight more cans that arent in the top 20 even?
"Regardless of Randy being screwed or not, we knew that fight wasn't going to happen for a long time. Aren't you glad Fedor gets to fight a top ten opponent? Being upset over a good match because you don't like one of the fighters is kinda lame these days. Randy's on off-season and it isn't fresh news, it is what it is. Be happy"
Bantamweight

Join Date: Aug 2007
Posts: 802
I'm thrilled with this fight. I dont expect Poopy Pants to win but at least he's not a can like all the other guys Fedor has been fighting as of late.
Quote:
Sigh.

This fight saddens me. I'm sorry but I have never and will never be a fan of Big Tim.


The UFC champs have to fight the best of the best, fight after fight...and Fedor is fighting circus style fights while maintaining his #1 ranking.


The fact that he was doing the posing with Randy doing staredowns for a photo shoot is just a kick in the balls to him...Randy obviously doesn't have much time left in his career, so it's a diss in my books.


Randy has lost some respect along the way doing what he believes, which I respect in a way...but he got screwed.
So you just expect Fedor to wait and not fight anyone until Randy gets his shit sorted out? F that. How silly.
---
Fedor fights I want to see..
Fedor vs. Josh Barnett
Fedor vs. Randy Couture
Fedor vs. Tim Sylvia -
DEMOLISHED
Fedor vs. Andrei Arlovski -
DEMOLISHED
hmmmmm, i wonder how many become reality..
2007
Flyweight
Join Date: Aug 2007
Posts: 244
Tim isn't an easy fight for ANY guy. Like him or loathe him he was champion for a very good reason. I'll be keeping my moneys in my pocket for this one.
I'm expecting it to look a lot like Choi/Schilt v Fed.

The plus is that it seems the long dry spell is over for fed, and he'll prob be getting more fights after this.

The downside is that it prob spells the end of great fighters fighting regularly. From now on I can see all the best fighters negotiating for ages over every fight.
Circus event? Tim Sylvia? You mean one of the top heavyweight fighters in the world?
Just thinking about this fight gives me a raging hard-on.
---
If a law is unjust, a man is not only right to disobey it, he is obligated to do so. ~ Thomas Jefferson
Sig by D.P.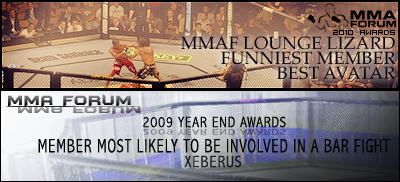 Currently Active Users Viewing This Thread: 1

(0 members and 1 guests)
Posting Rules

You may post new threads

You may post replies

You may not post attachments

You may not edit your posts

---

HTML code is Off

---