Quote:
Arlovski needs to grow out the chest hair. He has gotten way too pretty for his own good. Time to get back to being a wolf man, AA.
Amen to that Damone! He hasn't been the same since he's been all smoothed up.
I also hate the Billy Ray Cyrus mullet. He should go back to the all around shag.
1. Rich Franklin
2. GSP
3. Arlovski
4. Chuck Liddell
5. Babalu
6. Spencer Fisher
7. Huerta
8. Cro Cop
9. Anderson Silva
10. Don Frye
---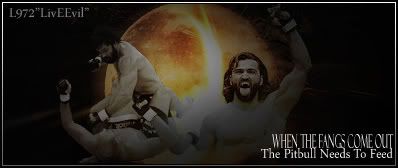 attention whore
Join Date: Oct 2006
Location: Branson, Missouri
Posts: 14,445
The way he looked in the Buentello fight, that's the fun Arlovski. The Arlovski I enjoy watching. He was super wolf man in that fight.
---
-I came|I saw|I failed-
Join Date: Mar 2007
Location: The plazzVan
Posts: 9,734
Bas Rutten
Genki Sudo
Mitsuhiro Ishida
Mirko Filipovic
Fedor Emelianenko
Yoshihiro Akiyama
Takanori Gomi
Antonio Rodrigo Nogueira
Aleksander Emelianenko
Chuck Liddell
This COULD be my list, but I haven't thought it through 100%
I'll order this as best as I can:


Mirko Crocop
GSP
Fedor
Rampage Jackson
Cung Le
Wanderlei Silva
Lyoto Machida
Shogun Rua
Dan Henderson
Karo


runner ups:
Big Nog
BJ
Heurta
---
"Existence precedes essence"
- Jean Paul Sartre
My podcast/blog:
http://lifeashumans.blogspot.com/
Funniest thing you may ever find on the internet:
www.gentlemanbob.com
or look for gentlemanbob on facebook
NPFFL: Cain Velasquez, Demian Maia, Lyoto Machida, Joseph Benavidez
GSP
Thiago Silva
Brandon Vera
Rich Franklin
Andre Arlovski
Anderson Silva
Ken Florian
Liddell
Genki Sudo
Wanderlei Silva
---
"I don't dink anyone en dis division can endure my riddum."
After much thought and careful analysis, this is my list.

1. Mirko "CroCop" Filipovic
2. Yoshihiro Akiyama
3. Genki "The Neo Samurai" Sudo
4. Takanori "The Fireball Kid" Gomi
5. Quinton "Rampage" Jackson
6. Yoon Dong Sik
7. Aleksander Emelianenko
8. Anderson "The Spider" Silva
9. Shinya Aoki
10. Lyoto Machida

Very tough list for me.

A few things I've noticed from this list.

Anderson Silva dropped quite a bit for me. I think it's because his nuts are getting overcrowded. He's still a Top10 for me, but really when I liked him, it was way back when you can consider him a prospect.

I also noticed that I have absolutely ZERO Welterweights on this list. I really hope a Welterweight fighter can capture my heart in the near future.

I've also noticed that only 3 out of 10 fighters are currently in the UFC. That really sucks.
---
Pride of
KOREA:
Yoshihiro Akiyama (Choo Sung Hoon)
Denis "The Super Korean" Kang
Yoon Dong Sik
Dong Hyun "Stun Gun" Kim
Bu Kyung Jung
Hong Man "The Techno Goliath" Choi
-I came|I saw|I failed-
Join Date: Mar 2007
Location: The plazzVan
Posts: 9,734
Ah man, I forgot Paul Daley!
MMA fighter

Join Date: Oct 2006
Location: West Carrollton, Ohio
Posts: 2,575
1. BJ Penn
2. Genki Sudo
3. Roger Huerta
4. Marcus Davis
5. Robbie Lawler
6. Melvin Guillard
7. Urijah Faber
8. Clay Guida
9. Georges St. Pierre
10. Duane Ludwig

I tend to like lighter guys who are really exciting. Some other guys I like are Sokoudjou, Machida, and Wand. So I like some heavier guys too.
Quote:
Ah man, I forgot Paul Daley!
Yeah!! YOU DID!! Semtex just barely misses my list...barely
Currently Active Users Viewing This Thread: 1

(0 members and 1 guests)
Posting Rules

You may post new threads

You may post replies

You may not post attachments

You may not edit your posts

---

HTML code is Off

---