Dream Fight Card
---
People always talk about matchmaking and how they could do better and stuff, if there were no contracts with organizations and you could have whoever you wanted fight each other, what would your card be? Like 6 or 7 fights
Bantamweight
Join Date: Jul 2006
Location: Boston
Posts: 612
Chuck VS Wandy
Frank Shamrock VS Tito Ortiz
GSP VS Hughes (already happening, wow a dream come true LOL)
I cant think of any others right now.
---
Steve-d
www.steved-mma.com
// My Training Blog!
MMA Fanatic
Join Date: Jul 2006
Location: DE
Posts: 22
Tim Sylvia vs Fedor
Shogun vs Crocop
Chuck vs Wanderlei
Rich Franklin vs Dan Henderson
Gomi vs Hughes
Alexsander vs Arlovski
Forrest vs Bisping
Here's Mine:
Main Event: Chuck Liddell vs. Wandy for World 205 Belt
Rich Franklin vs. Shogun
Tito Ortiz vs. Babalu
Rob Mccullough vs . Melvin Guillard
GSP VS. Diego Sanchez
Matt Hughes vs. Paulo Filho
I would like to add Sean Sherk vsBJ Penn for the world 155 lb belt
MMA Fanatic
Join Date: Jul 2006
Location: DE
Posts: 22
Rich Franklin doesn't stand a chance from any angle against shogun it would Ryoto vs Franklin all over but with worse results with pride rules that is.
attention whore
Join Date: Oct 2006
Location: Branson, Missouri
Posts: 14,445
Karo vs Sanchez 2.

Hansen vs Gomi 2(Both have evolved, especially Gomi).

Machida vs Denis Kang(It's not like Machida has a problem fighting people who are under his weight class).

Frank Shamrock vs Carlos Newton.

Fedor vs 2 bears, Tim Sylvia, 4 lumberjacks, & a tiger.

Special piss break/nacho making match....

Matt Hamill vs Mark Coleman vs Rashad Evans. Triple threat of LAYING!

I can just picture Coleman, Evans, & Hamill all laying on top of each other, like a dog pile for about 15 minutes. That would be one long piss break. I may have to call it a "Drive to get food" match.
---
---
Last edited by Damone; 10-12-2006 at

01:39 PM

.
Megaweight

Join Date: Apr 2006
Location: Everett, MA
Posts: 5,961
in mine i would have 4 man tourneys in each weight class
HEAVYWEIGHT FIRST ROUND
Fedor vs Sylvia
Crocop vs Arlovski
winners square off for title
LHW FIRST ROUND
Chuck vs Tito
Shogun vs Wand
winners square off
MIDDLEWEIGHT FIRST ROUND
Rich Franklin vs Dan Henderson
Paul Filho vs Denis Kang
winners fight for title
WELTERWEIGHT FIRST ROUND
Matt Hughes vs GSP
Diego Sanchez vs BJ Penn
winners fight for title
LW first round
Takanori Gomi vs Sean Sherk
Hayato Sakurai vs Melvin Guillard
---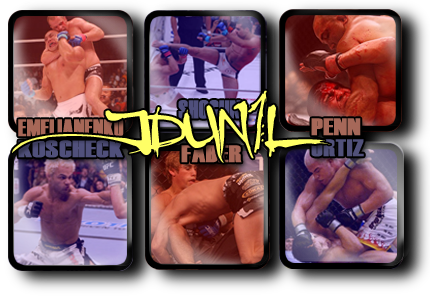 Mancrushes
1.Shogun
2.BJ
3.Fedor
4.Kos
5.GSP
Im in Porno's
Quote:
Originally Posted by HandsUp144:1
Tim Sylvia vs Fedor
Shogun vs Crocop
Chuck vs Wanderlei
Rich Franklin vs Dan Henderson
Gomi vs Hughes
Alexsander vs Arlovski
Forrest vs Bisping
I'm liking this fight card
Heavy Weight

Tim Slyvia vs Fedor

Cro Cop vs Arlovski

Monson vs Big Nog

Light Heavy

Wand vs Chuck

Tito vs Sobral

Bisping vs Shogun

Middle

Frank Shamrock vs Tito Ortiz

Frank SHamrock vs Rich Franklin

Frank Shamrock vs Frank Shamrock


Oldies

Ken SHamrock vs Royce Gracie

Ken Shamrock vs Dan Severn

Ken SHamrock vs Bas Rutten


Ultimate match of all time

ALl fighters, EVER, vs. Big John Mcarthy
Currently Active Users Viewing This Thread: 1

(0 members and 1 guests)
Posting Rules

You may post new threads

You may post replies

You may not post attachments

You may not edit your posts

---

HTML code is Off

---