Where have you gone, Travis Lutter?
---
Quote:
Originally Posted by MMARATED
You remember Travis Lutter, right? You know, the middleweight winner on the fourth season of "The Ultimate Fighter"? The last man to defeat current middleweight contender Patrick Cote? Ring bell?

Of course it does. You also may remember that Lutter hasn't competed in an MMA match since the UFC released him following a UFC 83 loss to Rich Franklin this past April. Truth be told, we expected to see Lutter fall back on his feet by now but, thus far, that hasn't been the case.

"I would like to be fighting," Lutter told MMARated.com today. "To be honest, I'm a little frustrated that I haven't found a home."

When we spoke to Lutter immediately following his release close to five months ago, he mentioned that he had preliminary talks with the now-defunct IFL and Affliction. Apparently, nothing came of those talks.

"I might have to take a fight on a smaller show just to get my name out there and build up my career again because it's a little frustrating that my career has stalled," Lutter said.

One theory that came to mind was that Lutter has been blackballed as the guy who failed to make weight for his UFC 67 middleweight title fight against Anderson Silva and ran out of gas early against Franklin, however, Lutter disagrees.

"I don't think I have been blackballed," Lutter said. "I'm a dangerous opponent and I don't think there is a long list of guys who want to fight me. Let's say you bring me into EliteXC and I beat (EliteXC middleweight champion) Robbie Lawler, well, then you don't want your new champ being the guy who got fired from the UFC."

Regardless, Lutter expects his time away from active competition to end sooner rather than later.

"I hope to fight before the end of the year," Lutter said. "I still have a lot of fight left in me."
Source:
http://mmarated.com/blogs/blog/20080...9763ACCF21073E
Does anybody even really miss Lutter? I don't know that I do, but I will say that the UFC should of gave him one more shot before they cut him.
---
[
Travis still did the best job against Anderson Silva, but he really needs to show that he's taking the sport seriously.
I heard that Travis has joined a new gym and is serious about getting into shape and back in the UFC.
Here's a training pic:
He's the one in pink.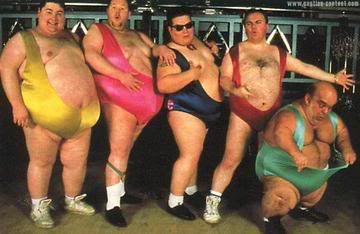 ---
When I read the title my first thought was "why do you care?".

Honestly, I think he will be hard pressed to find anyone that are serious about picking him up. He doesnt have any sort of fan base, his fights are 'meh' and Lutter doesnt really have any charisma, interesting character etc...
Currently Active Users Viewing This Thread: 1

(0 members and 1 guests)
Posting Rules

You may post new threads

You may post replies

You may not post attachments

You may not edit your posts

---

HTML code is Off

---