Quote:
I really liked Tamura vs Takimoto. Kiyoshi Tamura needs more love.
No matter what I do I cant get the image of Sapp murdering him out of my head. Just like grabs his neck, pushes him into the ropes and proceeds to crumple him. It keeps me up at night....
---
Megaweight

Join Date: Apr 2006
Location: Everett, MA
Posts: 5,961
My 2 favorite fights of all time are Shogun vs Rogerio and Gomi vs Diaz. I can watch those over and over again.
---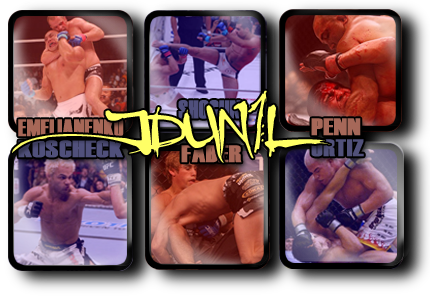 Mancrushes
1.Shogun
2.BJ
3.Fedor
4.Kos
5.GSP
Im in Porno's
Pride 10. Pride 10. Pride 10. It's so fkin sweet, mebbe the best of the early pride events. Wanderlei vs Mezger is one of my favourite fights ever. Classic standup fight even if it only lasted six minutes or so. Yvel kills Goodridge with a high kick inside one minute. Unfortunately then everyone decides it's best to just grapple hump Yvel to beat him (except Wanderlei the next event who stops him with a kick to the groin lol). Vovchanchyn ANNIHILATES Enson. Seriously that's the worst beatdown ever (apart from Saku/Arona :< ), the whole side of Enson's face was swollen about an inch, couldn't even make it to his corner and had to be carried out on a stretcher. Then he goes on next event how he would like a rematch, Enson is a tough son of a b!tch. Shamrock sprawls and brawls Fujita like a beast. . . nearly KO's Fujita, mouth piece comes flying out. Then Ken gasses, gets some heart problem bs or something. Damn. GODAMNIT!!! :@ Always wondered why Ken didn't just kick Fujita in the head when he was down. Saku finishes us off with a really nice fight with Renzo ending in a great submission for Saku of another Gracie.
Almost forgot Kerr nearly ripping Borisov's head off with a neck crank.
This card was awesome.
Pride never die
- turn your music up.
---
Fav. Fighters
Wanderlei
"The Axe Murderer"
Silva
Antonio Rodrigo
"Minotauro"
Nogueira
Ken
"You got kicked. By a kick."
Shamrock
WAR The CroCop!
I could care less = you care

I couldn't care less = you don't care
attention whore
Join Date: Oct 2006
Location: Branson, Missouri
Posts: 14,445
Quote:
No matter what I do I cant get the image of Sapp murdering him out of my head. Just like grabs his neck, pushes him into the ropes and proceeds to crumple him. It keeps me up at night....
Well, Sapp did outweigh Tamura by over 100 pounds. Tamura probably could've cut to 170, and he was thrown in there against someone who was a SHW. Stupid matchmaking, once again. But, this is supposed to be a positive Pride thread, so I'll keep the complaining about shitty matchmaking, dodgy reffing and horrible judging to myself.
---
For all you PRIDE nut jobs out there...
---
Here are 2 HL by kweiss:
Pride Promo
, short but sweet.
Dream on
, Not just Pride but some awesome moments in there.
---
"You must first believe if you are to achieve. That rhymed... unintentionally."

Favorite MMA Fighters:
BJ "The Prodigy" Penn
Randy "The Natural" Couture
I miss Takada banging on a drum in a diaper.
---
Quote:
I miss Takada banging on a drum in a diaper.
hahaha ya me to,
pride had some of the greatest entrances of all time,
I still get goosbumps when I watch Fedor's and Wanderlei's
anyone wanna post some good entrance vids?
---
I got a question! Did Bushido 10-12 ever get released on DVD! I tried looking for Bushido Vol. 10 on Netflix because I wanted to see the Aurlielo vs. Gomi match but couldn't find it.

Oh yeah, My favorite match was Ryo Chonan vs. Anderson Silva, Wanderlei Silva vs. Ricardo Arona 2 (despite the judges decision), and Wanderlei Silva vs. Dan Henderson 2.

Worst judges decsion IMO is Akira Shoji vs. Alex Stiebling, Wanderlei Silva vs. Mark Hunt, and of course Rampage vs. Ninja Rua!

Favorite Upset was Nino Shembri over Sakaraba!
---
You forget that this isn't just some brutal sport where everyones out to kill each other. Its much more like a game of physical chess.-looney liam
Im a UFC fan 1st but i did buy Pride Legacy vol. 5 (24-28)
Man, Nog v Hendo 2 is just great, i mean how he pulled through Nog's Omaplata is just rediculous

Wandi v Rampage 2
Herring the north South, gotta feel bad for him in the UFC

Aleksander Emelienenko v James Thomson is always a good laugh

The CC of old
I think the thing that I'll always remember and cherish about PRIDE is that no matter how bad the matchmaking was, or how long the lineup of cans being fed to top fighters was, I still found it impossible to not be entertained by a PRIDE show. They knew how to put on a show, and how to build towards HUGE fights. Fedor-Nog 2 and Wandy-Rampage 2 were so ridiculously anticipated. Nog-Cro Cop and Fedor-Cro Cop may have even exceeded the others. It just seemed like every card had relevance to the MMA landscape, where even in the much more one horse world of MMA today, I don't feel the same about the UFC.

Other things I miss about PRIDE:

-Takada banging a drum in his diaper
-Lenne Hardt
-Random appearances by Inoki
-Inspirit (I love that company, and I just don't see it enough anymore. Sure DREAM fighters rep it a lot, but DREAM isn't on the same scale as PRIDE)
-Bushido. Shows dedicated to lighter weightclasses are the goods. Hence my love for the WEC and now DREAM, and to a lesser extent DEEP, Shooto and Cage Force.
Currently Active Users Viewing This Thread: 1

(0 members and 1 guests)
Posting Rules

You may post new threads

You may post replies

You may not post attachments

You may not edit your posts

---

HTML code is Off

---