Next elitexc event, lol
---
I can see it now,
The man who defeat KIMBO SLICE, Seth petruzelli VS the former UFC light heavy weights champion, tito ortiz!
and the long awaited matchup of KIMBO SLICE vs ken shamrock!!
lol
---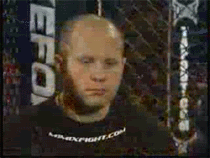 Super Heavyweight
Join Date: Feb 2008
Posts: 4,079
i really want to see frank vs tito 2
I can see it now
Brett Rogers vs Seth
Kimbo vs Ken
Tito vs Gina Carrano
THE BEST PPV EVENT IN ALL OF HISTORY!!
This is actually shaping up to be an awsome card. I'll bet anyone that Feijao is gonna fight Diabate. And that fight will be intense.
---
_RIVALS TOP 10

ANDERSON "THE SPIDER" SILVA
JAKE SHIELDS
NICK DIAZ
EDDIE ALVAREZ
JUNIOR "CIGANO" DOS SANTOS
GILBERT MELENDEZ
MAMED "THE CANNIBAL" KHALIDOV
HECTOR "SHANGO" LOMBARD
CAIN VELASQUEZ
GEGARD "THE DREAM CATCHER" MOUSASI

Flyweight
Join Date: Jul 2006
Posts: 318
Quote:
i really want to see frank vs tito 2
I'll take a Frank/Cung Le 2 before that thank you.
But about Tito/Frank 2, I don't think Frank could overcome Tito's size and strength advantage this time even though I do see Frank as the better lb for lb fighter. Anyone know when Frank is going to get back in the ring?
---
Last edited by Shogun; 10-06-2008 at

04:21 AM

.
On a Rampage

Join Date: May 2007
Posts: 1,845
I don't think there will be a Kimbo vs Petruzelli rematch. The same thing would happen. The can't afford to have Kimbo lose twice in a row. I think most likely they will promote the Shamrock/Kimbo fight. I don't think the Tito thing is a done deal. He has been unpredictable throughout his career. I do think that if does sign Elite XC will promote the hell out of Shamrock Ortiz 2.
Super Heavyweight
Join Date: Feb 2008
Posts: 4,079
damn cant wait for diaz and alvarez!
I recon they should set up a rematch between the two. I think it will be a lot easier to hype up and will allow Kimbo a chance to redeem himself, if not the hpye will flow to Seth.
Rematch will be very good for EliteXc ,people want to see if Kimbo will return or dead forever
Currently Active Users Viewing This Thread: 1

(0 members and 1 guests)
Posting Rules

You may post new threads

You may post replies

You may not post attachments

You may not edit your posts

---

HTML code is Off

---