MMA Fanatic
Join Date: Oct 2006
Location: South Lake Tahoe, CA
Posts: 79
Cool article about MMA acceptance and a gay MMArtist
---
Kinda fun read from the NY Times. Quotes from Dana and the Author went to UFC 74. Other than that it talks a lot about Felony Fights and a homosexual mixed martial artist that has fought in smaller shows and Felony Fights.
http://www.nytimes.com/2008/03/23/ma...l?pagewanted=1
edit: alright, sorry its late and i'm tired. That shoulda said "acceptance" in the thread title. if a mod would change it thanks.
---
Last edited by Walker; 10-14-2008 at

09:19 AM

. Reason: spelling error
Good read man - enjoyed it.

With regards to Felony Fights, I have never heard or seen this stuff before, but it sounds horrific. The description of the bout where the guy was out cold but took 5 more punches to the face and a jumping knee slam to the head is really horrible.

Events like that will obviously stay underground and I certainly won't be engaging in viewing any of them. I like the rules and the restrictions, its sensible and wise and we all accept that they are needed. I think we would be hard pressed to find a member of this forum who would want to go back to no holds barred.

As for the gay fighter - fairplay to him for being open about it, I honestly believe that there wouldn't be an issue if a gay fighter was to come into the UFC, you may get the idiots in the crowd dishing out some childish chants early days, but things would soon quieten down. In this day and age there really isnt an issue with it anymore socially and thats the way it should be.

Still, the UFC will continue to grow because they do the right things for the sport.
pretty good read! i've never really thought about it myself. dont really care either.... not a fan of the "flaming, in your face type". i've watched felony fights for a couple of years now online. i never buy the dvd's, though. i have hundreds of street fights saved on a disk. they are great fun to watch with the guys between ball games on staurdays. the one in the orange orchard with "tommy", the guy who catches the knees while already ko'd is pretty gruesome... they show it again in slow-mo after its over and the sound it makes is nuts! i even have one with two skinhead nazi types fighting each other with nun-chuka's(sp), it appears to be an initiation of some type. BRUTAL!
MMA Fanatic
Join Date: Jun 2008
Posts: 36
Awesome article, it was really interesting throughout.

After reading I jumped on youtube and looked up "Felony Fights" and Jesus that stuff is brutal. I watched the fight that they describe in the article and it really wasn't all that enjoyable, it was just brutality for the sake of brutality.

I guess I have a new found respect for the rules that a lot of contemporary MMA organizations impliment.
Great read.
I found the acceptance part pretty impressive.
Those "Felony Fights" sound absolutely brutal- from that one description of the "Tommy" fight I'm good without actually watching it.
---
Quote:
"I was petrified, because I didn't want anyone to find out. And I would try to be the toughest person around. That way, no one would suspect, no one would ever say it, no one would think it."
I know a couple of guys who should definitely pay attention to that part. Anyway, I'm pretty sure I saw the fight with the dude doing a jumping knee slam to the head and it is really, really disturbing.
Good read. I actually know the fight he was talking about, I watched it on youtube.

Had no idea he was gay, but thats good to know? lol, doesn't matter one way or another to me. Apparently someone has a problem with gays? Im only 20 years old, but in my experience gay/straight isn't even a factor.
---
If a law is unjust, a man is not only right to disobey it, he is obligated to do so. ~ Thomas Jefferson
Sig by D.P.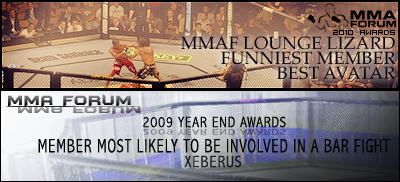 totally gnarly
Join Date: Jul 2007
Location: California
Posts: 1,691
I've actually seen that Felony Fights with Tommy, it is really brutal. He's out on the floor and the other dude knee-slams him in the face/throat and Tommy starts croaking like he can't breathe. It really looked like he was about to die.

Good read.
---
Quote:
I've said it before but it deserves repeating, "Theres 3 guarantees in life, death, Fedor, and bitches be crazy" .
Banned
Join Date: Sep 2008
Posts: 250
Theres a lot of homosexuals in MMA, a lot we dont know about. Anderson silva openly admits it
doesnt really matter, do what makes ya happy I guess.
Banned
Join Date: Oct 2008
Location: California, USA
Posts: 286
Quote:
Theres a lot of homosexuals in MMA, a lot we dont know about. Anderson silva openly admits it
doesnt really matter, do what makes ya happy I guess.
Where are you getting this bullshit? Anderson silva isnt a ***
Currently Active Users Viewing This Thread: 1

(0 members and 1 guests)
Posting Rules

You may post new threads

You may post replies

You may not post attachments

You may not edit your posts

---

HTML code is Off

---