Featherweight

Join Date: Feb 2007
Posts: 1,152
BJ Penn a traitor? (From Legacy: Renzo Gracie)
---
*** A bit of a spoiler to the documentary but nothing too bad***
I just watched Legacy the Documentary about Renze Gracie. Its AWESOME! Especially for only $14.
"BUY IT! DONT DOWNLOAD IT BITCHES!" - Joe Rogan.
http://www.renzogracielegacy.com/
Anyways, in the movie, they talk about BJ Penn, and how he used to train under Renzo's younger brother Ralph (I think). At one point, when BJ felt he was good enough, he left the gym and challenged Renzo to a fight.
In the documentary, they show Ralph calling BJ a traitor. He says that he taught BJ everything then he turns his back and challenges the family.
Is BJ a dick for this move?
I can understand it when it comes to business. I mean, I left my company and opened my own and used everything they taught me. However, I did it after I lost a lot of respect for those I worked for. If I still respected them, I probably would have stayed.
Do some treat training/gyms like businesses? I would think there is a bit more respect than when it comes to business. I would only imagine that there is more of a friendship/bond between Trainer/student than employer/employee, but I dont know because I dont train.
I dont really like BJ so it just added to my dislike of him. Does someone have another side to this story? Or any thoughts on this?
I dont understand why its a dick move, personally I think the Gracies are dicks and this self appointed Royalty of BJJ shit is old, oh my god he was my student and now he wants to compete agaisnt my brother how dare he. what a crock of shit.
---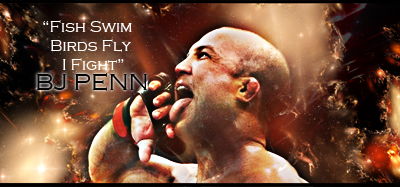 "If you get hit and it hurts hit him back you not knocked out yet."-Joe Doerksen
The Toxic Terrors (FFL)
Demetrious Johnson*Eduardo Dantas*Emanuel Newton*Will Brooks*Michael Page
Featherweight

Join Date: Feb 2007
Posts: 1,152
Quote:
I dont understand why its a dick move, personally I think the Gracies are dicks and this self appointed Royalty of BJJ shit is old, oh my god he was my student and now he wants to compete agaisnt my brother how dare he. what a crock of shit.
Im just trying to understand it in real life terms, to me at least. If Im teaching a guy to fight, and he becomes very good under my teachings, I think I would feel insulted if he challenged my brother to fight him with all the skills I taught him. Same goes for my business.
Lets just forget its the Gracies vs Penn. If this were you, would you feel the same? Im trying to understand this because I dont train so I dont understand these loyalties, but from what Im thinking, it was a sort of betrayal.
Of course this is because I watched the Gracie documentary. I dont know what BJ or anyone siding with him would say...
well if bj just left because he thought he was better and challenged him that would be a dick move and very disrespectful especially in bjj circles but i dont know penn's side of the story so idk what really happened but if it was the case as i mentioned before then it would a dick move
---
Team Link Member

NPFFL: Evan Dunham, Daniel Cormier, Jim Miller, Cole Konrad
I'm sure there are alot of details we don't know as well. It's not like we have all the facts or anything. If he thinks he is better and wants to challenge then let him
BJ for President
im less interested in maintaining the gracie family's self-serving legacy than I am in seeing the best fighters compete. and if that means someone facing their former trainer, i don't see the problem with that. sometimes the student must become the teacher!
---
Everybody good, plenty of slaves for my robot colony?
There may have been an underling cause to B.J. leaving and challenging his former team mates and trainers. Every story has two sides.
---
_RIVALS TOP 10

ANDERSON "THE SPIDER" SILVA
JAKE SHIELDS
NICK DIAZ
EDDIE ALVAREZ
JUNIOR "CIGANO" DOS SANTOS
GILBERT MELENDEZ
MAMED "THE CANNIBAL" KHALIDOV
HECTOR "SHANGO" LOMBARD
CAIN VELASQUEZ
GEGARD "THE DREAM CATCHER" MOUSASI

Middleweight
Join Date: Jul 2008
Location: Iowa
Posts: 2,615
I dont know if I would call it a dick move or what nots but BJ is kinda a sob imo.
if know one ever challenges the person that taught them the what ever (in this case sport of juijitsu) then the sport never gets anything but worse. and eventually dies. or atleast never gets better. hes no a traitor, just happens that a lot of gracies are dumb elitist assholes. the game passed them and their pissed about it. except renzo cuz hes not normal, and does things all the others dont.
---
Visit my website GrapplerWalt.com
Get updates on my up coming events

Enjoy a choke!
Homicidal Maniac

Join Date: Apr 2007
Location: Houston, Texas
Posts: 6,193
nothing new honestly I have trained in a few different martial arts and I have challenged my teacher in a few of them, and I know many others that have to. in this case Bj challenged the brother whoopty do. the teacher should be proud not insulte dthat their student is that gifted to take one of the best.
---
Over! 2,000,000 Views!
Currently Active Users Viewing This Thread: 1

(0 members and 1 guests)
Posting Rules

You may post new threads

You may post replies

You may not post attachments

You may not edit your posts

---

HTML code is Off

---