RNC - the fighting mans lullaby

Join Date: Sep 2008
Location: Somewhere between Hell and Earth
Posts: 1,849
Quote:
Tank Abbott,make it past the 1st 30 seconds and your home free!
I had similar thoughts. But the opening post does stipulate UFC fighter. . .
Machida would be my choice as well.

I would just swing wild and watch him "avoid" for 5 minutes.
---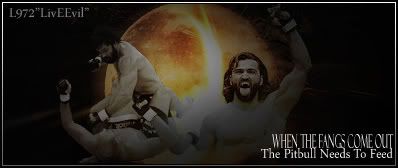 lol..some funny ansers.

are u guys seriously picking machida?!...thats crazy.

he might tend to play it safe againt some figters..but the guy is smart and been training his all life.it shouldnt take him more than 30 seconds to see u have no clue on the feet and poses no danger before he starts picking you apart with strikes.and if u somehow get him down youl get submitted right away.just not asmart choise IMO.<unless you're just using this post to diss him..>
---
Last edited by Royce; 12-02-2008 at

11:38 AM

.
hey why was the thread removed from the UFC forum ?...it talked about UFC fighters...whats going on here?
1. Absolutely
2. Give myself about 25-30% chance
3. Nate Diaz
4. Train takedown defense and boxing, Nate doesnt have any power in his punches and aslong as I could avoid it goin to the ground I could make it out of round 1. It be alot of me "circling" and if we clinched me pinning him against the fence with my 25 lbs weight advantage. It be boring as hell.
Rob Emerson.

I probably wouldnt last the first minute but who needs 1 mill (or legs) when you can say you had the honor of being in the cage with Rotten Rob..
---
LEGEN...wait for it...DARY

Join Date: Jul 2006
Location: Georgia
Posts: 5,066
I would probably fight Joe Stevenson and stay on his left side. That way I would never get submitted by his right side guillotine. I could fight for 72 hours if I could utilize that effective strategy . And I think most people on the planet have better striking then him. Even recently born crack babies.

Mainly have to work on Cardio though. My friends and I used to box for fun in high school (90's, but I also smoked back then) and I was usually gassed after the first two rounds.
---
Melvin Guillard. I've wrestled for 10 years so I'm sure I can take him down, and currently train Judo and kickboxing. So for the year I would just train striking defense and offensive BJJ. That and I outweight him by about 20 pounds.
---
Forum Bets: 2-0
__________________________
1.would you take the challenge and try to do it?
2.what do you think your chances will be?
3.which fighter will u choose to fight? <try to choose someone we all know >
4.what will be your strategy <both in training and in the actual fight>

1. hell yes, give me a liter of vodka and i'll do pretty much anything.
2. my chances would be slim to none.
3. I'd probably choose Rashad so we could just dance for 5 minutes.
4. Kalib Starnes.
---

Currently Active Users Viewing This Thread: 1

(0 members and 1 guests)
Posting Rules

You may post new threads

You may post replies

You may not post attachments

You may not edit your posts

---

HTML code is Off

---