I fight pro, but I only do 2 vs 1 matches, it's unfair to my opponents otherwise. My last fight was against Anderson Silva and GSP, it wasn't televised since the Athletic commission doesn't sanction 2 vs 1 mma. So I armbarred GSP in the first 3 seconds, then ripped his arm off to beat Anderson into a coma with it... bitches gave me a DQ since it was illegal to use weapons. Incidentally, that's why my record is 0-300 .. all 300 DQ losses for using registered weapons in the cage, ma guns lefty and righty.

Back to my latest fight though, this is why GSP is so slippery nowadays, his arm is smooth plastic after the one I ripped off. If it wasn't for Rob Emerson coming to the rescue with a steel chair, things could've gotten real ugly.
---
Last edited by Liddellianenko; 03-30-2009 at

08:11 PM

.
Quote:
Did you mean this Dylan Walsh??...the actor!!!
HAY
DONT HATE ON SEAN!!!!!!! HE IS A DAMN GOOD FIGHTER!! HE BEAT THE LIVING CRAP OUT OF CHRISTIAN IN SEASON 2 I THINK AND HE HAD A DRAW WITH HIM AT SEASON 5!!!
---
I actually ripped off my first opponents head in my first fight and after I got out of jail, I was never cleared to fight again. I am too big and powerful. I could have gone to Japan but I retired for the good of the human race.
---
Everybody good, plenty of slaves for my robot colony?
Oh yea? Well I am Anderson "The Spider" Silva!!! I ******* rock and will knock all your asses out!!!


...also I learned to speak english >_>
---
If a law is unjust, a man is not only right to disobey it, he is obligated to do so. ~ Thomas Jefferson
Sig by D.P.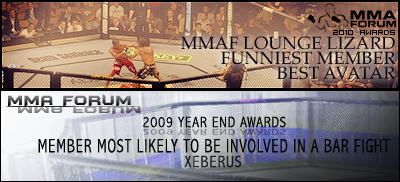 OK guys I have a confession to make, I am actually Phil Baroni the greatest fighter Ever. I will be champion one day because I am the best. All you other fighters can go get your shine box.
Light Heavyweight
Join Date: Nov 2008
Location: NC
Posts: 3,059
I'm Rob Emmerson
---
Attero Dominatus.
Quote:
Originally Posted by
Terror Kovenant
View Post
I'm Rob Emmerson
If you know what is good for you, you would not being saying that where the great one can overhear...
Quote:
Originally Posted by
Michael Carson
View Post
I like cake.
i concur.
---
"Only a warrior can choose pacifism, others are condemned to it."
Quote:
Imposter.
According to the Bible we were all created in Rob Emerson's image.
---
Currently Active Users Viewing This Thread: 1

(0 members and 1 guests)
Posting Rules

You may post new threads

You may post replies

You may not post attachments

You may not edit your posts

---

HTML code is Off

---