MMA Fanatic
Join Date: Aug 2009
Posts: 1
Am I physically fit for MMA?
---
Hey I was wondering what your thoughts were.. I'm 19 years old and I've been a fan of MMA since 2006 and have always enjoyed the competitiveness, skill and dedication that goes into it.

There's an MMA gym in my city that I wouldn't mind giving a chance but I don't even know where to start. I'm 330 pounds (I used to be almost 400). I'm 6'5 and for a big guy I'm pretty flexible. Though I'm worried if I'm physically capable right now to even try to do this. I'm not sure how my stamina will hold during circuits and work outs. I also don't know if I should be prepared with my own gloves and clothes. Are traditional MMA shorts a must for real training or can I wear regular Nike basket shorts instead of MMA shorts? Since they're kinda expensive.

I think MMA could be a real life changing experience for me, it would make me want to stay healthy and fit.

Should I go ahead and sign up? Or spend some more time at my regular gym and slim down some more so that my size doesn't hold me back? All I do right now is cardio and some small weights which works for me as far as weight loss goes but I feel like training at an MMA gym is all that wrapped into one + I get to learn.

Thoughts? How difficult would it be for a guy my sized to take up MMA right now. Would waiting a year or so when I'm down to 240 and more toned be better? I don't want to learn too late but I also don't wanna go to an MMA gym and not beable to complete a circuit and have to sit out.
i think if you go to a mma gym you could get physically fight and learn a thing or two about actual fighting. if your not planning to make mma your future its still a good idea to try it out to your advantage in the future. you never know if someone is gonna fight you in a street fight so knowing mma will keep you versatile and very fit. hope i helped
---
"The game of chess, is like a swordfight
You must think first, before you move"
vBookie record~ 9-4
MMA Fanatic
Join Date: Mar 2009
Posts: 15
Fist you have to decide what your goals are. Do you want to compete or just get in shape and learn? Have you gone to the gym and talked with the head instructors? I would go to the gym watch some of their session (if they let you, which I don't see any reason they wouldn't if you wanted to join). Also see how they teach. Any instructor can break a student. Are they trying to help build their guys? Also you seem like a big guy. Do they have other big guys that train? This will help you during the grappling and clinch. If all they have is smaller guys, when you start learning the techniques this will not help you.

Everyone has to start somewhere. Yea you can try to keep losing weight, but just lifting weights is different than sparring and grappling. Also ask questions of the instructors. How long have they been training, what kind of equipment they have/use, how many times they want you training, etc.

As for the clothing/gloves, again you have to talk with the instructor. Some have gloves students can borrow until they get their own, but my guess is you will have to get your own eventually.

Sorry for how long this reply was.
The way I see it, is that it won't hurt to try. If your'e worried about your fitness, I think alot of these fight gyms are now a means to getting fit. If the trainers are concerned about your fitness they'll probably get you into shape instead of turning you away. You should probably ask to talk to somebody who runs the gym. It seems to me, that all these little self-concious concerns and fears turn into excuses that stop people from doing what they really want to do. It sounds like you're passionate about training, so just jump into it-- like go now, or tomorrow-- and ask them questions. Just my opinion. Obviously.
In my opinion join an MMA gym right now. Come as you are not as you will be. Getting fit is nice and all, but it will take much longer to get you ready for mma than it will probably take you to lose the weight. I've been in boxing or kickboxing for 9 years, im in great shape and if I really wanted to compete in mma I'd still be 18months out before I'd even consider doing my first competition. Good job on the weight loss and keep up the good work.
---
If a law is unjust, a man is not only right to disobey it, he is obligated to do so. ~ Thomas Jefferson
Sig by D.P.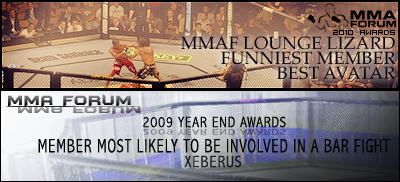 Consult with your doctor first to make sure you are healthy enough. You're a pretty big guy so you want to take a stress test. After you are cleared, then training in MMA will do wonders for your health. Cardio is great but you should weight train with heavier weight to gain some muscle(assuming 330 is mostly fat) which will help you burn some fat and raise you metabolism. Training in MMA is a great cardio workout on it's own. I think with a good diet some moderate weight lifting, and MMA training should get you in shape in less than a year. Good luck.
Amatuer
Join Date: Feb 2008
Posts: 127
Man get into MMA as soon as you can. It's a great way to get fit. Two things though. First of all i would be finding a gym with some heavy guys to train with. I'm a heavyweight myself and finding sparring partners can be a real pain in the arse. Secondly before you jump head first into mma training it would be a good idea to have some bjj training and possibly some muay thai lessons or other striking. Not to a great degree but enough to maybe have a grade or two so you can hang with the more experienced guys for a bit. Take it slow, sounds like you got plenty of time.
Currently Active Users Viewing This Thread: 1

(0 members and 1 guests)
Posting Rules

You may post new threads

You may post replies

You may not post attachments

You may not edit your posts

---

HTML code is Off

---