Zaromskis is heading to strikeforce!
---
trikeforce Signs Zaromskis
Options: ShareThis| Printer Friendly
Strikeforce Signs Zaromskis
Saturday, October 31, 2009
by Brian Knapp (bknapp@sherdog.com)

20649
Dream welterweight champion Marius Zaromskis has come to terms on a multi-fight contract with Strikeforce, according to officials within the promotion.

An emerging superstar at 170 pounds, the 29-year-old Lithuanian could make his promotional debut on Dec. 19 at the HP Pavilion in San Jose, Calif. Zaromskis will still compete inside the Japan-based Dream organization, which has formed an alliance with Strikeforce.

Having supplanted Mirko "Cro Cop" Filipovic as the man with the sportís most-feared feet, Zaromskis last competed at Dream 12 on Oct. 25, when he leveled Korean Myeon Ho Bae with a first-round head kick in a non-title affair. He captured the Dream welterweight crown in July, as he stopped Affliction veteran Jason High and respected Japanese standout Hayato "Mach" Sakurai on the same night. Both were victimized by Zaromskis head kicks.

Spawned by the London Shootfighters camp, Zaromskis joins a stable of Strikeforce welterweights that includes former EliteXC champion Jake Shields, UFC veteran Nick Diaz and one-time International Fight League titleholder Jay Hieron.
---
Sonnen On the spider
ďIf he wants to leave the division, leave the sport, who cares, Beat it, nobody tunes in to watch him anyways, and his little fake ĎI donít speak English.
Great news. He could be a force. Does anyone know about his ground game?
This is another solid acquisition for Scott Coker.
---
_RIVALS TOP 10

ANDERSON "THE SPIDER" SILVA
JAKE SHIELDS
NICK DIAZ
EDDIE ALVAREZ
JUNIOR "CIGANO" DOS SANTOS
GILBERT MELENDEZ
MAMED "THE CANNIBAL" KHALIDOV
HECTOR "SHANGO" LOMBARD
CAIN VELASQUEZ
GEGARD "THE DREAM CATCHER" MOUSASI

MMA Fanatic
Join Date: Oct 2009
Posts: 29
good for strikeforce now lets see him fight sheilds or diaz may hieron maybe Mayhem would come down
Good Gain for SF , their becoming a real competition for UFC ,if not the only.
Those are some pretty awesome fights. Guy is a headkicking beast
Welterweight Champion
---
I think we are looking forward to the first Strikeforce Welterweight Champion!
---
The Emoticon Guy
No doubt a very solid signing for SF. I was hoping he'd come sraight to the UFC though...
Love watching Zaromskis fights... Not sure how he'll do against grappling / ground game guys, as his style appears a bit reckless at times. But that's why I enjoy his fights
Kudos to SF for the signing.
---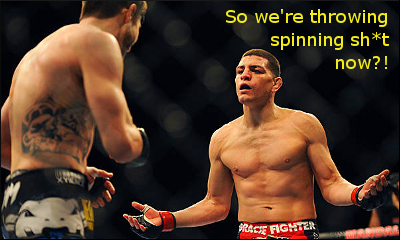 Hope he goes undefeated in StrikeForce and signs up with you know who. Man endless fights with this guy in the other league.
http://www.youtube.com/watch?v=BmVA5l87738
Definitely a crowd pleaser. He has a wicked arsenal of kicks...
Currently Active Users Viewing This Thread: 1

(0 members and 1 guests)
Posting Rules

You may post new threads

You may post replies

You may not post attachments

You may not edit your posts

---

HTML code is Off

---