Banned
Join Date: Feb 2008
Posts: 408
Brett Rogers: "I'm The Chosen One"
---
http://news.fightmagazine.com/brett-...ikeforce-2028/
After Brett Rogers knocked out Andrei Arlovski on June 6, he met Fedor Emelianenko immediately. They were asked to pose for photos together and in that whirlwind Rogers realized he would one day fight the world's best heavyweight—he just didn't think it would be five months later.
Critics and fans have been shocked at Rogers' assertions about his upcoming bout against the world's best heavyweight: Emelianenko's not invincible, Emelianenko hasn't been hit like he can hit and Emelianenko will lose on Nov. 7.
But nothing seems to be shaking Rogers. Not the fact that Emelianenko is a superior ground fighte, that he has far more experience against far better fighters. In fact, Rogers has a counter for all of it: he's 40-pounds heavier, hard to take down, and unfazed by main event attention.
"I never think about losing," said Rogers of his confidence. He doesn't think about losing because if he does, well, it will come sooner than later.
As it stands, Rogers believes all the pressure is on his oppenent because he has a reputation to uphold as the world's best heavyweight. "I still feel like a dude off the street going into the cage sometimes," said Rogers. "I shouldn't feel like that…It is what it is. This is my career man. This is who I am. This is me now."
Rogers knows that fighters have a short shelf-life, that he has to take advantage of every opportunity and make the most of it for himself and his family. After all, he escaped the Chicago ghettos and worked round the clock changing tires and training to earn the right to be here, on the verge of fame and wealth he could only imagine a few years ago.
"I just felt I needed to do something good. My grandma had 10 kids man. No superstars, no doctors, no lawyers. See where I'm going with that?" said Rogers. "I'm like man, if anybody's the chosen one, I'm feeling like I'm the chosen one."
Live right and every other day is a good one to die.
Join Date: Jul 2008
Location: The Big Island, BC.
Posts: 1,431
Gotta respect Roger's persistent confidence. I've got Fedor all the way, but i would love to see Rogers put up a great fight.
---
Rogers is going to try to strike with Fedor, which will get him ko'd quickly.
---
"Existence precedes essence"
- Jean Paul Sartre
My podcast/blog:
http://lifeashumans.blogspot.com/
Funniest thing you may ever find on the internet:
www.gentlemanbob.com
or look for gentlemanbob on facebook
NPFFL: Cain Velasquez, Demian Maia, Lyoto Machida, Joseph Benavidez
Megaweight
Join Date: Mar 2007
Posts: 5,499
No one tell him Fedor fought guys much heavier than he is.
Bantamweight
Join Date: Mar 2009
Location: Ottawa
Posts: 937
Rogers is going to try to strike with Fedor, which will get him ko'd quickly.


I agree it will, but it's still his only chance. He only has a very small punchers chance if they strike, but thats way more chance he has then if they go to the ground. On the ground he has zero chance, so he might as well throw bombs and pray.
Like I said before, everytime I hear something from Rogers or his camp, I give him less and less time in the ring with Fedor.

He was right about being the "Chosen One" though, if Fedor is in a bad mood (does Fyodor get moods), he will get nailed to a cross. (It finally won't be the Jews' fault!)
---

You know what I truley have a pile of respect for Roger's, he seems very humble when you hear him speak, he isn't boisterous he just refuses to accept losing as an option. Grim really seems like a good person who has struggled alot but is finally getting a break. Fedor has to lose eventually and Rogers seems like a a good guy, why not him? (oh yeah its Fedor)
---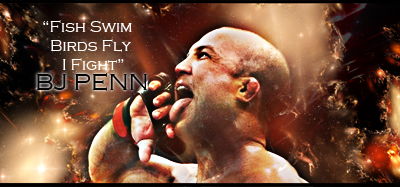 "If you get hit and it hurts hit him back you not knocked out yet."-Joe Doerksen
The Toxic Terrors (FFL)
Demetrious Johnson*Eduardo Dantas*Emanuel Newton*Will Brooks*Michael Page
Bantamweight
Join Date: Jan 2009
Posts: 963
rogers does seem to have a strong mental game at least, like someone else said too i'd love to see him put up a good fight but i just dont see it happening
Rogers wage will go up either way. It's not like a loss to Fedor would be career ending.

Hope the fight is awesome. I didn't put any money on it so it's exciting whoever wins.
I can't wait for this fight. Brett had better be swinging for the fences to get that KO. Otherwise, it is over for Rogers.
---
Currently Active Users Viewing This Thread: 1

(0 members and 1 guests)
Posting Rules

You may post new threads

You may post replies

You may not post attachments

You may not edit your posts

---

HTML code is Off

---