Flyweight
Join Date: Sep 2009
Posts: 365
Do you think if Fedor was better looking he'd be more popular?
---
Fedor. god bless em, good fighter and all but got hit upside the head with the ugly stick maybe a bit too much to be marketable. Well maybe a lot too much.

Do you think his lack of popularity for being considered a good fighter has to do with his looks?
He's only less popular,or less known in the USA,ther rest of the world he's a megastar.So no,not really.
I dont think it would really change anything if he was looked like some kind of model or was ripped like a freak. He still wouldnt speak english and would come off as being bland and unexciting outside of the cage.
Bantamweight
Join Date: Jan 2008
Location: Ireland
Posts: 595
Banned
Join Date: May 2009
Location: parts unknown
Posts: 2,638
he should just get his face Wanderlei'd next thing you know he will be fighting sexymama!!
His looks are part of his mystique. If he was ripped and good looking, then he wouldn't have as big of an impact on his fans, IMO. He looks like an average joe and is the baddest man on earth.
---
Sig made by the awemazing
D.P
As long as this man is still fighting, it doesn't matter:
---

The girls I know who follow MMA think he's actually pretty hot from the neck up.
Maybe if he was ripped instead of soft looking? Probably not. I think the thing about Fedor is, he's a totally average guy. At only about 6' with only a 74" reach, he's not physically gifted in any way.
But he destroys people who are physically gifted.
Quote:
As long as this man is still fighting, it doesn't matter:
hey I could.... well I could see how people could find that man... no im sorry he is mugly, is there like a fund we can donate to for some plastic surgery and maybe some hair plugs.. because goddamn.
@op fedor isnt horrible looking, but looking better might help him some in the US.
---
If a law is unjust, a man is not only right to disobey it, he is obligated to do so. ~ Thomas Jefferson
Sig by D.P.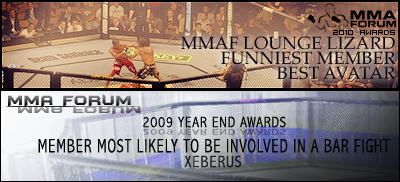 Megaweight
Join Date: Mar 2007
Posts: 5,499
I think his looks have next to nothing to do with it. I think it is his intensity, or lack there of, that hurts him. For us obsessed people it adds to his mystique, to your casual or new fan it makes him looked bored and not ready to fight. Wandy is a great example of this, he isn't popular for his looks, he is popular because he looks like he is going to not only murder his opponents whole family, he is going to eat them in the cage as well.
Currently Active Users Viewing This Thread: 1

(0 members and 1 guests)
Posting Rules

You may post new threads

You may post replies

You may not post attachments

You may not edit your posts

---

HTML code is Off

---